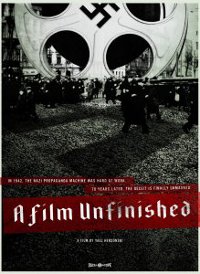 "A Film Unfinished" (Oscilloscope)
In the years after World War II, a bunker filled with canisters of film footage was discovered in the forests in East Germany. Among the cans of films, documentaries and raw footage was one labeled simply "Das Ghettto, 1942," containing the rough cut of an unfinished propaganda film shot in the Warsaw ghetto just before the residents (aka prisoners) were rounded up and sent to the death camps. This documentary by Yael Hersonski uses the footage as a stating point to examine the ordeal of the Jews forced to live in the poverty and horror of this urban concentration camp as well as the efforts of the Nazis to create anti-Jewish propaganda. With the help of diaries chronicling the lives of the inhabitants (including a detailed record of the shooting by Adam Cherniakov, the head of the Jewish Council), testimony by the only cameraman to be questioned in the post-war trials and a reel of outtakes that shows the retakes, the manipulations of the direction and, in places, members of the crew caught on film between takes, this documentary dissects a film that was never finished (and whose purpose, while we can guess, we'll never really know) to reveal the reality behind the construction and the inhuman culture behind its creation.
The power of the film is enhanced by it seeming simplicity, pulling together a tremendous feat of research and scholarship and leaving the commentary to the archival witnesses and to five survivors invited to view the footage ("What if I see someone I know?" asks one woman, a question that we not only can't answer but can't honestly imagine asking). The more it strips itself to the evidence, its narrator (Rona Kenan in the English language version) simply providing the background, the more devastating and affecting the portrait becomes.
The DVD release from Oscilloscope, packaged up in its distinctive four-panel paperboard case in a slipsleeve, features a 14-minute interview with author and film researcher Adrian Wood, a three-minute interview with scholar Michael Berenbaum, the 1945 documentary short "Death Mills" directed by Billy Wilder (which includes footage of the death camps shot after the liberation), a study guide and a short essay by film scholar Annette Insdorf.
For more classic and alternative releases this week, see MSN Videodrone