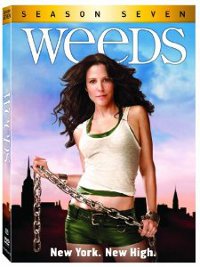 Weeds: Season Seven (Lionsgate) and Nurse Jackie: Season Three (Lionsgate), two of Showtime's most successful original series, arrive in advance of new seasons, and they make an interesting pair: Both shows are built around dynamic women who are at once seriously flawed and amazingly strong, and they take radically different perspectives on drugs.
Weeds: Season Seven (Lionsgate) opens with Nancy Botwin (Mary Louise Parker), TV's most misguided single mother and screwed-up role maternal model, leaving prison on early release and moving right back into the marijuana trade, without even contacting the family she sent to Copenhagen to escape the reach of the Mexican drug lord on her trail. Yeah, her criminal life has gotten complicated and this season will be no different. It's simply relocated to the Big Apple, where Nancy immediately jumps into a relationship with the Eastern European criminal brother of her possessive cellmate while competing in a whole new market: catering to rich kids and upper-class professionals with boutique bud, instant gratification deliveries, and upscale branding.) She even goes to war with her own eldest son, all the while trying to prove that she should be given responsibility of her infant son (raised by her sister while she was in stir). Nancy Botwin is not only the worst mother on TV, she's the most deluded.
The series remains a hit for Showtime, thanks largely to Parker's MILF come-on and the show's farcical approach to the criminal life, but I'm officially over the show's winking indulgence in Nancy's increasingly poor parenting decisions, the out-of-control antics of her sons (one of whom becomes a police intern simply to keep tabs on the competition), and impulsive actions of her erratic brother-in-law (Justin Kirk).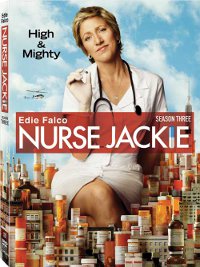 Nurse Jackie: Season Three (Lionsgate) finds Jackie Peyton (Edie Falco), the head nurse in a New York hospital emergency room and TV's most functional drug addict, having a harder time keeping her secrets under wraps. "We have got to stop trying to save people who don't want to be saved," complains Jackie in the second episode, clearing saying more about herself than her patient. Walking out of her intervention, ducking her husband, paying more and more to get her pharmaceutical fix when her friends refuse to enable her anymore, she finds the balancing act even harder to maintain when her former lover becomes (against his better judgment) genuinely good friends with her husband.
Where Weeds plays this kind of personal crisis for easy laughs and minimal consequences, Nurse Jackie finds the humor more painful and ambivalent, and the repercussions of her actions reverberate through her marriage, her friendships, and finally (and most painfully) her two daughters. Her addiction is leaving scars.
Weeds: Season Seven features 13 episodes on two discs on both Blu-ray and DVD, with commentary on select episodes, three featurettes, deleted scenes and a gag reel among the supplements.
Nurse Jackie: Season Three features 12 episodes on two discs on both Blu-ray and DVD, with commentary on select episodes, two featurettes and a gag reel.