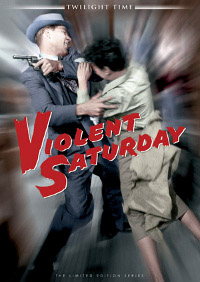 Richard Fleischer's hybrid of violent crime drama and small town melodrama Violent Saturday (1955) is not technically a film noir. The widescreen production is in color and takes place almost entirely in daylight with nary a long shadow on the screen or a scheming double cross in the story. But it does belong to a distinctive subgenre of criminal violence–in this case a bank robbery–in rural settings, the urban poison reaching into the "innocence" of small town America, which as this sub-Peyton Place reveals, is not so innocent after all.
While the Saturday of this film indeed erupts into violence, the direction is more slow fuse than flash powder. Violent Saturday opens with a bang–a dynamite blast in the copper mine outside of a small Arizona town, building expectations for an explosive film–but settles into a mood of anxiety and anticipation in the long lead-up to the robbery, a mix of heist film deliberation and soap opera melodrama in what it essentially a provincial company town in the shadow of the mines.
Stephen McNally, the leader of the criminal crew, cases the place as his cohorts arrive: Lee Marvin, all tough-guy sass but for his addiction to a nasal inhaler, and J. Carrol Naish, a more cautious veteran who keeps the talkative Marvin in line. (Even Naish can't stop the surly sadist from bullying a little kid who bumps into him on the sidewalk; Marvin's most memorable moment is stepping on the kid's hand.) Meanwhile the civilians inevitably to be caught in the crossfire of the robbery are introduced: a self-pitying drunk (Richard Egan) married to a shamelessly unfaithful wife (Margaret Hayes); a nebbish (and married) bank manager (Tommy Noonan) essentially stalking a beautiful single woman (Virginia Leith); a struggling librarian (Sylvia Sidney) behind on her bank payments; and a loving, hard-working husband and father (Victor Mature) trying to be the hero his son wants him to be. Ernest Borgnine co-stars as an Amish farmer whose out-of-town spread is chosen by the robbers as a rendezvous point and Brad Dexter, famed as one of The Magnificent Seven but much busier as one of Hollywood's reliably oily womanizers, is the other man in a country club affair. The stalwart and stiff Mature feels miscast amidst this rogues gallery of killers, corrupt citizens and compromised characters. He never offers the human dimension the rest of the cast so effortlessly reveals in their failings, but his physicality serves the climactic conflict very well.