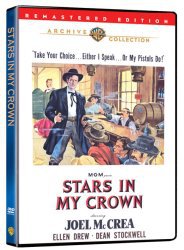 The Stars in My Crown (Warner Archive)
Thanks to the MOD model of film releases, a lot of marvelous films heretofore unavailable on DVD, wonderful films without the recognition that translates into the kind of sales needed to sustain a full DVD release, are being made available to those dedicated cineastes and few but passionate fans. "The Stars in My Crown" (1950) is one of those films that lacks the hook that would entice the average classic movie fan to blindly give it a chance—a low-key frontier drama of community and conflict starring the sturdy but unexciting Joel McCrea, framed in nostalgia and overflowing with homespun values of 19th century Americana—but deserves the look for the power of its storytelling and the strength of its character. Especially McCrea as the unconventional deacon who strides into town and conducts his first service in the local bar, not quite holding the patrons at gunpoint but suggesting that it's in their best interests nonetheless.
Director Jacques Tourneur is famous as a director of moody, evocative horror films of shadowy threats and psychological reverberations, classics such as the original "Cat People" and "I Walked With a Zombie" and "Curse of the Demon," and for his film noir masterpiece "Out of the Past." But his frontier dramas (westerns, yes, but really about communities built out of the wilderness) are equally powerful and "The Stars in My Crown" is one of his best and most moving films, a piece of ur-Americana and small-town values carved out of a culture of self-interest and violence. Tourneur reminds us that the country was constructed out of both sides of this equation.
Read more reviews of Warner Archive releases at MSN Videodrone