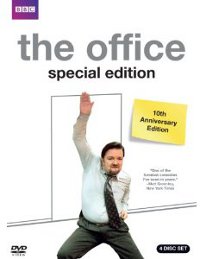 "You can't put a price on comedy," says David Brent, the alter ego of Ricky Gervais in the original BBC The Office. But The Office: Special Edition (BBC) has given it a shot: this new edition carries a $39.98 suggested retail price (less with the inevitable discounts of web retailers and other stores). It's a much more caustic and squirmy comedy than its American counterpart, which was designed to play for more than the 12 episodes (plus two-part Christmas Special coda) of the self-contained British show. That's not to dismiss the superb American incarnation, but it's what makes the original so distinctive
Creator/co-writer/co​-director Ricky Gervais is fearless as the insufferably self-satisfied office manager of a paper company branch who fancies himself a born comedian and a natural leader. He's wrong about both counts, naturally, but his yes-man team-leader Gareth (Mackenzie Crook), a brown-noser with delusions of competency, hasn't noticed, and white-collar joker Tim (Martin Freeman, currently playing Bilbo Baggins in "The Hobbit") is too worried about his job to say anything to his boss. This is the show that introduced the mockumentary format that has defined so much of American sitcoms, but plays it differently: Everyone forgets about the camera but Brent, who can't help but bray and play to his audience, mouthing off inanities while he pontificates as the voice of wisdom.
It gets even more squirmy in the second series as Brent melts down in envy and anxiety when a former fellow manager (Patrick Baladi) becomes his boss and proves to be both more effective and popular and Brent offends just about everyone in the newly expanded office and alarms his corporate superiors with tasteless jokes and the scariest dance unleashed on television. The two-part "Christmas Specials" wraps it all up in a low-key happy ending. It's a reward that they've all earned, even the pathetic David Brent, who — in a moment of rare self-awareness — chucks away his painful pose and eager-to-please phony chumminess to become a real person.