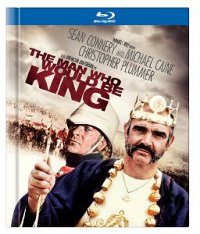 "The Man Who Would Be King" (Warner)
John Huston originally wanted to make this film in the late 1950s with Humphrey Bogart and Clark Gable. It would've made a hell of a picture. And, as a matter of fact, it did, only with Sean Connery and Michael Caine as Danny and Peachy, the ambitious British soldiers/con-artists​/Freemasons turned adventurers in India. Huston's adaptation of Kipling's story manages to be both intimate and gloriously sweeping, a larger than life tale on a magnificent canvass (Morocco's mountains – standing in for Afghanistan – create the breathtaking backdrop) grounded in the strength of friendship and camaraderie, and elevated by a magnificent score from Maurice Jarre, who works a classic hymn into a rousing theme.
It's pure Huston: an impossible quest, an out-of-reach grail and an ironic twist leading to a supremely glorious failure. More than any other of his seventies films, Huston is able to turn their story into a strange sort of triumph by remaining true to his characters, right down to the riveting conclusion and the haunting coda narrated by Caine. He offers wonderfully old-fashioned storytelling—muscular​, dramatic, grounded in character and driven by magnificent twists of luck and fate that arise like poetic justice dished out by a wry god—for the modern age. The colonialist perspective on the Indian and tribal populations as childish, foolish and backwards peoples is sometimes offensive to modern eyes but it certainly captures the attitude of a 19th century British soldier of fortune in India, relating his tall tale of a true story to his Mason brother (Christopher Plummer as Rudyard Kipling). It is, in short, one of the most rousing adventures of the 1970s.