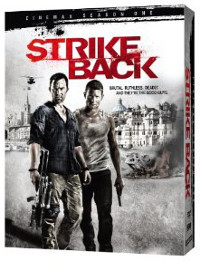 Strike Back: Season One (HBO) – Originally developed as a British action series about international intelligence agents infiltrating enemy organizations and stopping terrorist threats around the globe with a mix of spycraft and violence, "Strike Back" was reworked and relaunched as a co-production between Britain's BSkyB cable channel and the American pay cable channel Cinemax and relaunched with a new cast. That's the version released here as "Cinemax Season One," which stars Philip Winchester as Sgt. Michael Stonebridge, an agent in Britain's super-secret covert Section 20 and Sullivan Stapleton as American Damien Scott, a former (dishonorably discharged) Delta Force officer drafted to help out when a fellow agent is captured by a terrorist organization in Pakistan. Amanda Mealing co-stars as the Section 20 commander and Eva Birthistle is a veteran agent, and guest stars include Jimi Mistry, Liam Cunningham, and Iain Glen.
It's compared to "24" but it actually plays like a supercharged "MI-5" by way of a "Bourne" movie, with high-energy action, plenty of gunplay and explosions, maverick field agents, politically-minded commanders, and any number of conspiracies and double crosses winding through the stories. It doesn't have the intelligence or complexity of an ambitious HBO drama, but it's clever enough and delivers plenty of well-executed action sequences with a gritty style. The ten episodes play out as a series of five two-part adventures with a cliffhanger in the middle, and a season-long story connecting the individual stories. Give the show credit for an inventive conspiracy: it's all about the WMDs that were *supposed* to be found in Iraq and the blowback from the failure just now reaching escape velocity in a terrorist plot.
10 episodes on four discs on Blu-ray and DVD, with commentary on five episodes. The Blu-ray set features a bonus DVD version (on two flipper discs) and digital copy for download (via iTunes).