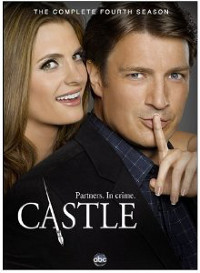 "Castle: The Complete Fourth Season" (ABC) opens with Detective Kate Beckett (Stana Katic) recovering from an assassin's bullet and apparent amnesia and mystery author and freelance NYPD "consultant" Richard Castle (Nathan Fillion) dancing around the declaration of love that she can't remember (or can she?).
The lighthearted procedural has always scored stronger on character and banter and ensemble chemistry than on writing and this season is no different, even with the addition of a new Captain (Penny Johnson) who is a stickler for procedure. And it's not just the boyish enthusiasm that Fillion brings to every case (as well as his unconventional flirtations with Stanic) that carries the show. He has his own just-us-guys style with Jon Huertas and Seamus Dever (who really click as Beckett's team) and his family scenes (with Susan Sullivan as his theatrical mom and Molly C. Quinn as his smart and centered daughter) have only gotten better. Even the scripts improve this season. Either that or I'm simply giving in to the formula. They're no less cute and just as gimmicky as ever, but somehow the self-awareness works. I just hope that the dark threads of conspiracy and shell shock (not to mention the danger of finally breaking the defining sexual tensions) don't get in the way of the show's fun with murder.
23 episodes on five discs, with commentary on three episodes, two episodes performed as radio shows by Nathan Fillion and friends, three featurettes, and the usual deleted scenes and blooper reel. DVD only.