Sophia Loren Award Collection (Kino Lorber) is branded with the name and likeness of the Italian sex symbol turned iconic actress, but in fact it's more properly a celebration of a collaboration between three influential Italian superstars: Loren, Marcello Mastroianni and director Vittoria de Sica. The three features they made together, plus a documentary on De Sica, are released on DVD and Blu-ray this week.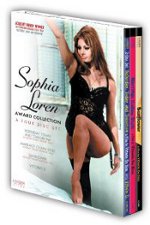 Yesterday, Today and Tomorrow (Kino Lorber), their first collaboration and winner of the Academy Award Best Foreign Language Film in 1964 (one of the lightest films to ever take home that honor) is a comic trilogy featuring Loren and Mastroianni in each story. "Adelina" is the broadest of the bunch, a loud farce with Loren as a black market cigarette-selling mother who manages to stay out of prison by remaining eternally pregnant, which wears out unemployed husband Mastroianni (relegated to babysitting the enormous brood) so much that he finally is unable to perform. It has a pleasant sense of community but is overlong and slight. "Anna," about an affair between a bored industrialist's wife and a handsome journalist, is a sharp and subtle look at class hypocrisy and reflexive materialism. It's little more than a vignette, but its brief glimpse into their lives has more resonance than either of the framing films. The film's reputation comes largely from Loren's striptease in "Mara," where she plays a high-class prostitute who gets involved with a crisis of faith by the divinity student next door, much to the frustration of her devoted client Mastroianni. The notorious striptease was parodied by Robert Altman in "Ready to Wear" with Loren and Mastroianni reprising their original roles.
More on Marriage Italian Style, Sunflower, the 2009 documentary Vittorio D. and Vittorio De Sica's 1946 Shoeshine.