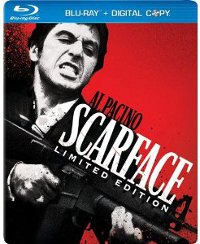 Scarface: Limited Edition (Universal)
Brian De Palma's "Scarface," ostensibly a remake of the Howard Hawks gangster classic, moves the iconic rise and fall crime opera from the tommy-gun gangster wars of the prohibition era to the cocaine wars of Florida in the eighties. In the process, De Palma, screenwriter Oliver Stone and star Al Pacino carved out a film that redefined a generation of gangster cinema.
Pacino's Tony Montana, a Cuban criminal fresh from Castro's prisons looking for his piece of the pie in Miami, is a predator from the moment he hits the shore and Pacino is pure drive for success: get the money, get the power, and then you get the girl, is his mantra, and he pulls along his loyal immigrant comrade Manny (Steven Bauer) for the ride to the top.
Oliver Stone's screenplay keeps the general shape of the original story — Tony's friendship with Manny, his fierce over protectiveness of his kid sister (Mary Elizabeth Mastrantonio) who isn't a virginal as he imagines and his obsession with the boss's ice-queen mistress (Michelle Pfeiffer), the trophy for the winner — while rethinking it in terms of the Miami cocaine boom of the early eighties. It's a whole new spin on the immigrant story and the American Dream as an underworld nightmare and a fitting bookend to the two "Godfather" films. The façade of family loyalty, underworld authority and the mob code is trampled in the feral battle to get to the top of the cocaine mountain as Tony robs and murders his way to riches and power, and then numbs himself into a fantasy of invulnerability with his own product.
Continue reading at Videodrone for the rest of the review, plus details on the insanely deluxe edition ($1000 retail) and footage from the August 23 cast reunion.