Rudo Y Cursi (dir: Carlos Cuaron)
Rudo (Gael García Bernal) is a fearsomely aggressive goalkeeper who thinks he's a gambler. Beto (Diego Luna), aka Cursi (which means "corny"), is a talented striker who thinks he's a singer. Their talents lay on the field, but they're pretty ill-equipped to deal with anything off the pitch: relationships, career, reality.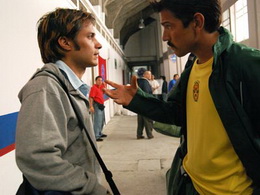 The half-brothers are country rubes dropped into the dazzle of the big city and media stardom, take their eyes off the ball on their whirlwind rise to fame and short-lived fortune. Beto is a dreamer who wants to springboard his soccer fame (football to the rest of the world) into a singing career. His cover of Cheap Trick's "I Want You to Want Me" (accompanied by accordion) is as corny as the cheeseball music video that accompanies it – no wonder he got the nickname Cursi. Rudo takes his soccer more seriously and is indignant when Beto is recruited over him, but he's no smarter or self-aware than Beto and he's far more self-involved.