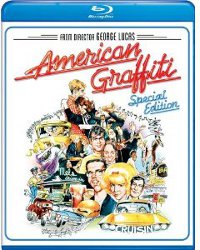 American Graffiti: Special Edition (Universal)
Where were you in '62? George Lucas was cruising the strip in hot rods. After his first feature, THX-1138, flopped, he reached back to his formative experiences for this easy-going "night in the life" portrait of high-school grads on the last blast of summer before heading off to college. Richard Dreyfuss takes his first leading role as the ostensible lead in a big ensemble cast that includes Ron Howard, Ron Howard, Cindy Williams, Paul LeMat, Charles Martin Smith, Candy Clark and Mackenzie Philips, plus Harrison Ford in a small role as a big-talking hot-shot looking for a street race. It's the first Lucasfilm production, co-produced by Francis Ford Coppola, and the first film to really embrace the jukebox soundtrack: the score is essentially the song list played by deejay Wolfman Jack (playing himself) on the AM radio that every single car is tuned to.
Lucas supervised the digital remaster for the Blu-ray debut and recorded a new video picture-in-picture commentary for the release, which pops in and out of the film but it pretty consistent throughout. There's also a function to identify the songs. Ported over from previous releases is Laurent Bouzreau's excellent 78-minute "The Making of American Graffiti" and 22 minutes of screen tests.