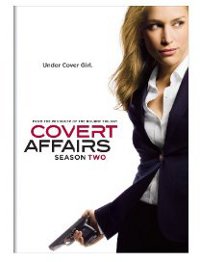 Covert Affairs: Season Two (Universal) continues the adventures of junior CIA agent Annie Walker (Piper Perabo), juggling a private life that she struggle to keep separate from the moral conflicts of field assignments.
Think of this stylish, small-scale spy TV-lite series as a scaled-down cable version of "Alias" or "Nikita," without the network spectacle or high-concept gimmickry. What it has is Piper Perabo, the best (but certainly not the only) reason to see the show. She has spirit and personality, the natural presence of a star and a modesty born of confidence.
In the show's first season, Annie Walker was a talented CIA recruit pulled out of training for an assignment that called for some mad linguistic skills (she speaks a half dozen languages fluently) and kept on as a junior agent in what appears to be a seriously understaffed department. She works with intel veteran Auggie Anderson (Christopher Gorham), a former field agent blinded on a mission, and reports to unit head Joan Campbell (Kari Matchett), who fights to hold her team together while under attack in company politics. Peter Gallagher plays the section boss, who is also married to Joan. Needless to say, it all puts a little extra strain on the marriage.
The show follows the general USA formula, with a light tone, a sleek, budget-minded style, and just enough of an overarching storyline running through the season to suggest a bigger picture. The second season doesn't really expand that world much, but it does give the supporting cast more opportunities, including an impromptu mission for Auggie (complete with flashbacks to the assignment that cost him his eyesight) and an expanded part for Sendhil Ramamurthy's Jai Wilcox, an agent trying to find his place in the department while his estranged father (Gregory Itzin), the former section head, plays power games with the team.
The rest is on Annie, who still hasn't told her protective older sister (Anne Dudek) what she really does for a living. That changes this season, as do a few other things that have allowed Annie to maintain her innocence in a job that demands some serious sacrifices. It's not as weighty as the show likes to think it is, but that makes it easier to drop in and out of. Some shows demand commitment. This one offers an escape.
16 episodes on four discs, with the featurette "Covert Affairs On Location," Piper Perabo at Comic-Con, deleted scenes and a gag reel. DVD only.