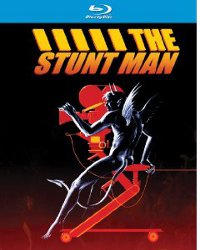 "The Stunt Man" (Severin) on Blu-ray and 2-Disc Special Edition DVD
Richard Rush's brilliant little backstage drama of illusion and reality and moviemaking sleight of hand earned three Oscar nominations and universally glowing reviews, yet is was barely seen on its initial release and became an almost instant cult classic.
Steve Railsback is intense and haunted as the Vietnam Vet on the run from his ghosts as much as from his mysterious crime who winds up sheltered by megalomaniac movie director Peter O'Toole and hired as the film's new stunt man. As he falls in love with leading lady Barbara Hershey and tries to understand the alternately charismatic, sincere, manipulative, monstrous, and mysterious movie director, he loses the ability to tell what's really happening behind the artifice and performance and finally becomes convinced they are out to kill him. The film twists and turns from scene to scene, carrying the audience on the some whirlwind mind-game as Railsback navigates the maze of assumption and appearances.