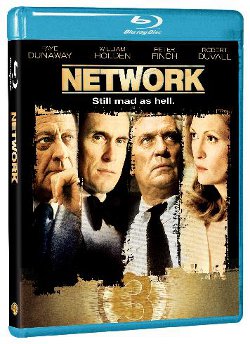 "Network" (Warner)
"Paddy Chayefsky's Network," reads the opening credits of the 1976 drama, an almost unheard of possessive for an original screenplay and in this quite appropriate. The elder statesman of live TV drama pours all of his bile over the dirty little business of television into this incredibly entertaining screed. Yet the scathing satire of TV news as just another three-ring circus played for ratings by bottom-line corporate overlords is so caricatured that it likely would have sunk into self-parody but for the direction of Sidney Lumet, perhaps the perfect director for such material.
Faye Dunaway gets star billing as the ruthlessly ambitious programming executive inspired by the on-air breakdown of news anchorman Finch to fold news into the entertainment programming umbrella and William Holden plays the old-school news executive as appalled by the changes as he is fascinated with the ferocious Dunaway, who doesn't differentiate between shop talk and pillow talk.
Lumet watches the news turn into a prime-time variety show like a documentarian with the story of a lifetime. Its a veritable sideshow with fortune tellers, scandal-mongers and the ringmaster anchorman (Peter Finch) as the Mad Prophet of the Airwaves playing for applause from his live audience. But behind the scenes, Lumet plays out the business dealings as a more realist (if flamboyant) piece of corporate theater, viewing the bitter farce through the lens of modern America and in the process saves Chayefsky from sinking under his own pretentions. Well mostly. The rarified dialogue is more theater than seventies cinema, too precious and pointed to give any human dimension to the corporate gamesmanship and ethical collisions. Dunaway's insistence on discussing relationships as if it were a scripted serial makes its point the first time around. By the third go-round, it's simply tired.