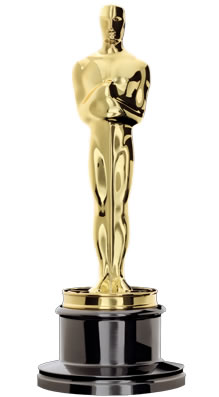 The Academy Award nominations are now out (see full list here). Now let the guessing games begin. Predictions and kibbitzing are all part of the fun (my annual accounting of contenders who missed the Oscar cut is here on MSN) and catching up on all the nominees before Oscar night is, for many, part of the ritual.
While many of the front-runners were released late in the year and are still playing in theaters — best picture nominees "The Descendants," "War Horse," " Hugo," "Extremely Loud & Incredibly Close," and " The Artist" should all get a boost this weekend — just as many are already available for home viewing on DVD, Blu-ray, digital download and/or pay-per-view. Here's a list of those you can see now on a small screen near you. Click on the titles to get to the DVD/Blu-ray reviews.
"Moneyball" (Sony), arguably the brainiest sports movie ever, came away with six nominations, including Best Picture, Best Actor (Brad Pitt), Best Supporting Actor (Jonah Hill) and Adapted Screenplay. The Blu-ray and DVD editions offer a few peaks behind the production. Also On Demand.
"Midnight in Paris" (Sony), the grown-up romantic fantasy that unexpectedly became Woody Allen's most financially successful film ever, earned four nominations, including Best Picture, Best Director and Best Original Screenplay. On Blu-ray and DVD with minimal supplements, and On Demand.
"The Tree of Life" (Fox), Terrence Malick's portrait of one boy's education growing up in Texas set against nothing less than the origins of life in the universe, picked up nominations for Best Picture, Best Director and Best Cinematography, and it is a stunning looking film on Blu-ray, which also features the supplements (there are none on the DVD). Also On Demand.