Independent producer Edward Small thought big even when his budgets were small.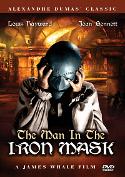 His 1934 production of The Count of Monte Cristo (Hen's Tooth), starring British import Robert Donat as Edmund Dantes and produced outside of the major studios (without the great resources available to most Hollywood films as a matter of course) is a perfect example. The sweeping tale that winds through the halls of power, the homes of the aristocracy, and Napoleon's march to reclaim France, ends up driven largely through scenes of characters in small rooms conversing, plotting, and proclaiming, with the budget saved for a few impressive set pieces. While those scenes—including a duel with swords in a drawing room, a grand display of aristocrats arriving for a ball (without ever showing the ballroom itself), and a handsome courtroom set with a moving witness stand that gets pushed around the floor like a prop in a dance-off—enliven the story, the rest of the film is slow and static and creaky, stopping dead for monologues and exposition to explain what the film can't afford to show. Director Rowland V. Lee, a silent movie veteran who settled into second-tier sound productions, is given an impossible task of making a small, underfunded costume adventure look like a studio production, but his almost reverent treatment of every scene merely slows the film down and reveals its threadbare origins.
Donat, almost fatally passive as the stalwart and idealistic Edmund, becomes commanding when he remakes himself as the aristocratic Count, conniving his way into friendships and social connections while he plots his righteous vengeance, and whatever life the film has is owed to him. Louis Calhern stands out as the lead villain. Otherwise this is a weak version of the story that rewrites Dumas to give it a happy ending: instead of being destroyed by his obsessive revenge, he is cheered on by the widow and the son of his first victim and rewarded for his efforts with redemption and restoration of his dreams. Though the DVD boasts a "new digital transfer from a 35mm Fine Grain," it is a weak, grainy image from a print that shows signs of degradation.

The Man in the Iron Mask (Hen's Tooth), released just five years later in 1939, is significant step up in every way. Not only has the budget and scope been expanded, creating a much more lavish and sweeping canvas, but director James Whale (coming to the end of his Hollywood career) energizes the production. The action is more lively, to be sure, with smartly-designed crowd scenes and a big clash between the Musketeers and the king's soldiers that suggest a bigger scope than it actually shows, but Whale turns the dialogue into a duel in its own right, with the advisors currying favor with the corrupt King Louis XIV and the Musketeers jabbing away with witty comments.
I've never been a fan of Louis Hayward, whose primary talent seemed to me an ability to play vanity and insincerity with complete conviction, but he's perfectly cast as the lascivious and tyrannical King Louis XIV, a sadist who smiles at the sound off the executioner and practically glows as he plots the tortures of his enemies (he even scares his self-serving advisor Fouquet, played with sinister graced by Joseph Schildkraut), as well as the chivalrous (but still somewhat cocky) Philippe of Gascony, who in this free adaptation has been secretly raised by D'Artagnan (Warren William) and the Musketeers as heir to their dashing legacy. But I have long been a fan of Warren William, once the charming but predatory wolf of pre-code cinema (see Skyscraper Souls, Employees Entrance and Golddiggers of 1933, just to name a few) and by 1939 a just-as-charming anti-hero in the Lone Wolf mysteries. There's a twinkle in his eye as the aging D'Artagnan, always ready for a scrap (generally with a smile), always prepared to sacrifice himself for justice, honor and friendship. And while Joan Bennett has not the strength of presence that she will later bring to Man Hunt and Scarlett Street in just a few years, she is up to the role of Princess Maria Theresa, Louis' betrothed.
Like The Count of Monte Cristo, this is independently produced by Edward Small, but this time he lavishes studio-quality resources on the film, and Whale, a director whose creativity, wicked sense of humor, and sophisticated sensibility elevated productions as wide-ranging as Waterloo Bridge, Bride of Frankenstein, and Showboat, fills the screen with physical action and dramatic crackle. The disc looks better too, mastered from a nice 35mm fine grain print. There's a little damage in some frames, but the image itself is stronger and sharper, with good detail and contrast.