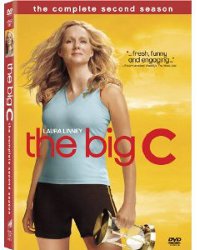 The Big C: The Complete Second Season (Sony) brings back Laura Linney as Cathy Jamison, a wife, mother, and high school teacher who turns a diagnosis of cancer (the big C of the title) into a springboard to live her life to the fullest in the second season of the Showtime series. It's terminal but treatment may give her extra years, and she dives into every possibility with an optimism that her former self never had.
I found the kooky eccentricities of Linney's character close to unbearable in the first season of the show. But this time around, her Cathy is more committed to actually living her life and looking after the people she cares about in, from her flailing husband (Oliver Platt) and struggling son (Gabriel Basso) to a student (Gabourey Sidibe) who moves in and the school swim team, who gets a taste of her maternal ferocity and likes it. Compassion tempers her reflexive rebellion and she's no longer as self-absorbed, merely self-aware. And given the instability of those around her in the face of comparatively minor crises, she's now the most well-grounded person in the show.
13 episodes on three discs, plus deleted scenes and outtakes. DVD only.