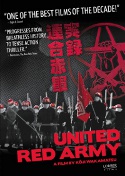 From Japan comes Koji Wakamatsu's United Red Army (Kino), an intense study of the extreme militant left movement in 1970s Japan and a historical drama as psychological thriller. It could be Japan's answer to Carlos, a chronicle of how the militant United Red Army came out of the student protest movement of the 1960s and transformed into an ideologically-confus​ed, slogan-spouting revolutionary band.
Most of the film takes place in the group's self-imposed exile in the mountains, where a training program becomes twisted by the megalomania of its leaders and their tyrannical cult-like domination. And just when you think you've slipped into a horror movie, Wakamatsu reminds us that, while this is a dramatization with fictionalized elements, it is based on history. The young zealots killed by their own comrades, and the would-be revolutionaries who fed into the cult of personality and enabled the abuse, were real people. Many of the survivors are still in prison. Though it runs over three hours long and is at times grueling, it is also utterly compelling and affecting. Japanese with English subtitles, no supplements. DVD only.
More foreign releases on DVD and Blu-ray at Videodrone here.