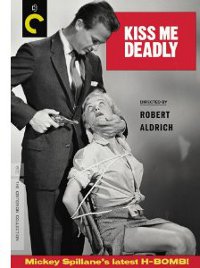 Kiss Me Deadly (Criterion)
Robert Aldrich's 1955 film noir apocalypse Kiss Me Deadly is unlike any other noir ever made. From the opening scene, where Cloris Leachman (naked under a trenchcoat) runs barefoot down a coastal highway flagging down cars, to the Pandora's Box scream of destruction unleashed in the finale, it pushes the conventions past the breaking point.
Ostensibly based on Mickey Spillane's hugely successful pulp novel, Aldrich and screenwriter A.I. Bezzerides turned the story inside, transforming it into a white-hot blast of tawdry pulp and film noir cynicism for the atomic age. Aldrich had just come off of Vera Cruz, a mercenary western that looks forward to the cynical opportunism of the spaghetti westerns, and that tone carries over to Kiss Me Deadly. Mike Hammer is turned into a blithely amoral opportunist, a corrupt private detective who specializes in divorce cases (a "bedroom dick," in the parlance) and stumbles into a conspiracy that he thinks he can parlay into a payoff, and Ralph Meeker plays him with a perpetual sneer of a smile and an arrogance that is rarely justified. This is a guy who pimps out it secretary/lover Velda (Maxine Cooper) between smooches and makes a play for almost every beauty who crosses his path.