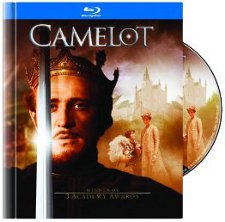 Camelot (Warner), the 1967 musical epic starring Richard Harris as King Arthur and Vanessa Redgrave as a flower-child Guenevere, is considered a classic by many and a disaster by others. I'm in that other camp.
The original 1960 Broadway production of the musical version of the King Arthur legend by Alan Jay Lerner and Frederick Loewe was a smash hit turned cultural touchstone, associated forever with the idealism and youth of the John F. Kennedy. But by the time it came to the big screen in 1967, the old studio system was breaking down and youth culture was challenging establishment tastes. The movie version, directed by Broadway veteran and musical specialist Joshua Logan, tried to straddle the gap between old-fashioned Hollywood musical spectacle and the energy and color and themes of sixties culture. The resulting compromise is big and ungraceful and plodding, a lumbering three-hour spectacle.
Richard Harris, famous for playing rebellious, rough-hewn characters, took over the role of King Arthur (originated by Richard Burton) with a mix of regal dignity and working-class origins and Vanessa Redgrave brought youth and unapologetic sexuality to Guenevere (played by Julie Andrews on stage).
Italian actor Franco Nero, however, is neither a charismatic romantic lead nor much a singer as the conceited and sincere Lancelot, the night that captures Guenevere's heart. He's just one tone-deaf element to the simplistic take on the Arthurian myth. Lavishly mounted, with magnificent sets and costumes and castle backdrops, it's also clumsily directed and haphazardly edited, alternately lighthearted and heavy-handed, often in the same scene. And while it has its fans, the bloated, overlong production was a huge financial flop and helped kill the old-fashioned musical.
The Blu-ray release features commentary by film historian Stephen Farber and two well made (if overly admiring) documentary featurettes among the supplements, and comes in an illustrated Blu-ray book case with a soundtrack sampler CD.