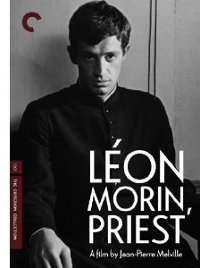 Jean-Pierre Melville made his reputation as a defiantly independent director of cool gangster thrillers, beginning with elegant, elegiac Bob le Flambeur (1955) and culminating in the austere masterpiece Le Samourai (1967), with Alain Delon as an existential assassin, and the heist classic Le Cercle Rouge (1970). But the director, who during World War II fought in the Resistance, worked for French intelligence in London and served in the Free French forces in the liberation of Italy and France, also made three films about life in Nazi-occupied France, including his debut feature Le Silence de la Mer (1947).
Léon Morin, Priest (1961), an adaptation of the semi-autobiographical novel by Béatrix Beck, was his second film about the occupation. The traditional details of the occupation–the physical presence of German soldiers on the streets, the black market, the activities of Resistance and the deportations of Jewish citizens–are in margins of the central story, and that, in an unexpected way, is the point. Life has become normalized, and what a strange, anxious normal it is, a disconnected existence on hold.
Jean-Paul Belmondo stars as the unconventional, at times radical young priest Léon Morin but you could say he is the object of the film while Emmanuelle Riva plays the subject: Barny, the young widow of a French Communist and a mother who sends her half-Jewish daughter France to the country to protect her from the Nazis. Riva's Barny narrates in a pithy, matter-of-fact manner, offering simple facts ("Our city had been occupied by Italian troops," she observes in the opening scenes, and later simply says "The deportations began") with no personal commentary. She's no Resistance fighter but neither is she a collaborator; she and her friends baptize their children as cover and perhaps it is her resentment at having to undergo such a ritual that inspires her, and atheist, to go to confession with the express purpose of telling off the new young priest.