"Hell Harbor / Jungle Bride: Precode Hollywood Double Feature" (VCI) is a reminder that not all pre-code cinema is snap and sass and wicked fun. Lupe Velez is the naïve sexpot of the island in "Hell Harbor" (1930). The Mexican spitfire plays Anita, the Caribbean island girl daughter of the brutish Morgan (Gibson Gowland) who has bartered her hand in marriage to blackhearted trading post operator and black market pearl trader Horngold (Jean Hersholt). In her innocence and desperation to escape the marriage, she proceeds to plot the murder of an American sailor (John Holland), which falls apart when she falls for her target, and steal a fortune in pearls. Even with her adorable broken English babbling and flirtatious woman-child manner, such behavior is a stretch to believe, let alone forgive. And title aside, this isn't quite the hellish cesspool that such a label would suggest. The pre-code outrageousness comes largely in a scene where Morgan takes a bullwhip to his daughter after she laughs in the face of Horngold's proposal. She responds by pulling a knife. This is quite the loving household.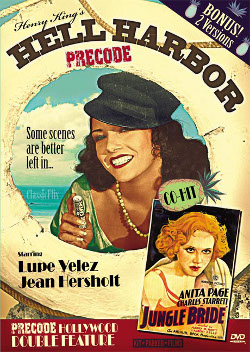 This 1930 production displays the growing pains of Hollywood's sudden transformation to sound—the film moves in starts and stops and the soundtrack of tinny voices is only magnified by the lack of aural atmosphere (not just music but pretty much any suggestions of offscreen sound). Henry King directed classics of silent cinema and was soon back on top of sound cinema filmmaking but he's flailing here with only the glowering pouts and radiant smiles of little Lupe to keep the film going. It's also notable as the first reteaming of Gowland and Hersholt since the silent classic "Greed" and the first appearance of cult actor Rondo Hatton, who has a small role as one of the island's disreputable characters.
VCI's disc features two versions of the film: a brisk 64 minute cut, which was edited by the studio for general release to pick up the pacing, and a limited-release 84-minute version. The latter has more atmosphere and better explains the hold Hersholt has over Gowland, but the frontloaded extra scenes (including a sequence with Velez singing on the beach) slows the start of the film considerably and the print is in only fair shape. The shorter version is taken from a superior print, though it pretty much cuts Rondo Hatton's part out of the story. The co-feature, "Jungle Bride" (1933), isn't quite as exotic as the title sounds: the survivors of a shipwreck set up housekeeping on a deserted island, and the men vie to see who will get the only girl on the island. It's been available on public domain editions before; VCI's edition isn't stellar, but it looks fine.