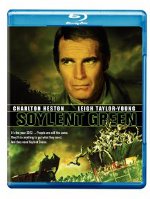 Soylent Green (Warner)
Set in 2022 New York City, population 40,000,000, this eco-conscious science fiction artifact from 1973 looks more prescient than ever. In this overpopulated world, the gap between the rich and everyone else is enormous, poverty is rampant, unemployment high and "the greenhouse effect" (those very words are used in the film) has brought on climate change of a scale that has decimated agriculture, resulting in food shortages for an unsustainable population. This is all backdrop to a classic murder mystery and Charlton Heston stars as the police detective assigned to the politically sensitive case involving an uber-rich member of the board of directors of Soylent, which controls a significant percentage of food production and essentially rules the country. Edward G. Robinson the aging professor who shares Heston's cluttered apartment and Leigh Taylor-Young the companion of the murdered industrialist (the term used in the film is "furniture," which nicely communicates how she has traded herself as a commodity in return for survival).
The film, ably directed by Hollywood workhorse Richard Fleischer and smartly adapted by Stanley Greenberg from a novel by Harry Harrison, makes its points in the unspoken details of life in this dystopia: homeless hordes fill apartment stairwells and hallways at night, food riots are routine and the first order of business when Heston enters the lavish apartment to investigate the scene of the crime to plunder everything he can—making sure that the forensics team and his boss all get their due cut. Where so many science fiction visions of the era have dated, this gritty creation of a depressed (and depressing) future recycling the junk of the past, and where assisted suicide has become simply another social option, looks all the more real. You may remember the "twist" of the end but in context of the rest of the film, it's less an insidious conspiracy than a last-ditch solution to feeding the world on the only protein left.
The Blu-ray features the supplements of the 2003 DVD release: commentary by director Richard Fleischer and star Leigh Taylor-Young and the vintage promotional shorts "A Look at the World of Soylent Green" (where Heston is called a "scrupulously honest cop," apparently by a copywriter who never actually saw the film) and "MGM's Tribute to Edward G. Robinson's 101st Film" (look for George Burns in the celebration footage).