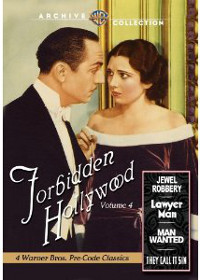 There were a couple of years when Hollywood, moving from the purely visual (with textual assist) storytelling of silent to the immediacy of sound, struggled to find its voice. When it did, the talkies exploded. When stilted line-readings in awkwardly-placed microphones gave way to rapid-fire patter and free-wheeling interplay, the verbal energy sent a lot movies racing, even when the visuals remained restrained.
That's part of the fun of the early thirties Hollywood movies, but only part. Before the  crackdown of the production code, these films fizzed with sex and sass, wise-guys and smart dames, hustlers and sharpies and even elegant society folk with wit and wiles and insouciant charm.
And personality. Lots of personality, thanks to stars like James Cagney, Barbara Stanwyck, William Powell, Joan Blondell, and the great stock company of supporting players at Warner Bros.. That, more than anything mentioned above, recommends the eight films on two recent collections from the Warner Archive.
"Forbidden Hollywood: Volume 4" (Warner Archive) showcases the debonair grace and amused attitude of William Powell in "Jewel Robbery" (1932), playing a cultured jewel thief in Vienna who romances a bored Baroness (Kay Francis) brought to life by his unconventional courtship. He's a guy who conducts a robbery as if hosting a soiree, keeping his victims duly entertained while relieving them of their valuables. Not exactly drawing room wit, but quite lively and fun when Powell is delivering the remarks, and as for its pre-code bonafides, there is an extended sequence with a "drugged cigarette" that is the earliest example of stoner gags I've ever seen.