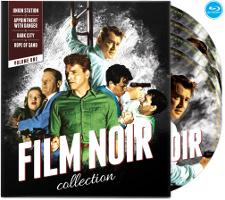 "Film Noir Collection: Volume I" (Olive) presents four films previously available on DVD only: "Rope of Sand" (1949), "Dark City" (1950), "Union Station" (1950), and "Appointment with Danger" (1951).

"Rope of Sand," set in the unforgiving desert badlands and cutthroat diamond trade of North Africa, with a cast that could be the burned-out, ruthlessly mercenary evil twins of "Casablanca," recasts the exotic thriller with a noir sensibility under the harsh light of a desert sun. Burt Lancaster is the American hero, turned bitter and vengeful after his mistreatment at the hands of the sadistic head of security of the diamond company, and Corinne Calvet ("introduced" to American audiences here) the doll-faced femme fatale Suzanne, a mercenary gold-digger whose first act is to blackmail middle-aged company man Arthur Martingale (Claude Rains).
Director William Dieterle really sinks his teeth into competitive play of blackmail, double-crossing and betrayal and keeps the edge on even as a couple of characters reveal a conscience by the end. And he nicely shifts the film from the hard daylight of the desert, the shadows more about the heat of the sun than the darkness of the soul, into a nocturnal world. It makes for one of the most engagingly entertaining artifacts on the margins of film noir.
Charlton Heston made his Hollywood debut as the stony leading man of "Dark City," a hard-hearted veteran turned gambler who becomes hunted by a psychotic killer out to revenge one of his marks. Heston doesn't have much dimension beyond his flinty gruffness and emotional distance but he's got confidence, strength and a solid screen presence that anchors the film. Lizbeth Scott is his soggy sometime girlfriend, Viveca Lindfors the widow who melts his icy heart and Dean Jagger, Don Defore and Ed Begley co-star, and watch for Jack Webb as a sneering hyena of a bully and Harry Morgan as the target of his grinning cruelty: the future "Dragnet" team as uneasy partners in crime. Also directed by William Dieterle, one of the modest pros of the classic studio era.
The set is filled out with "Union Station," starring William Holden, and "Appointment With Danger," starring Alan Ladd. These aren't the classics of genre but they are interesting artifacts in a genre defined by style and attitude, and with so little classic film noir on Blu-ray, it makes for an attractive package for the die-hard fan. Four discs in a single case with hinged trays, not available separately.