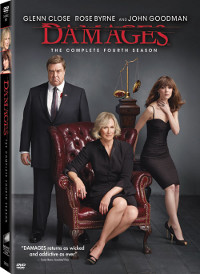 Damages: The Complete Fourth Season (Sony), set a few years after the fallout of "Season Three," finds superstar litigator Patty Hewes (Glenn Close) settled into an easy friendship with former protégé/nemesis Ellen Parsons (Rose Byrne), now on a successful career track in another big firm.
Hewes hasn't mellowed so much as reprioritized; she's raising the granddaughter that her absent son abandoned and she goes through nannies faster than she can vet them. So when Ellen, following up a tip from a former classmate, decides to take on High Star, a Blackwater-like military contractor providing illegal services in Afghanistan, Patty agrees to once again play mentor and advisor to her former pupil. And nothing gets Patty's blood up like playing hardball against a corrupt corporation, though she's a bit distracted this around when a search for her missing son comes back on her in a custody battle for her granddaughter.
This is the first season of the show's new identity as a DirecTV exclusive show and it appears to have taken a budget hit in the process. There are fewer central figures to the drama, more modest locations and settings, and a shorter season of ten episodes. The flashforward / flashback structure is still intact but not as effective in this story, which revolves around corporate honcho Howard Erickson (John Goodman) and his brutally efficient hatchet man (Dylan Baker, superb in an understated performance), a former security officer with his own issues. Their justification of cruel and murderous tactics in the name of national security (they are not above having inconvenient witnesses eliminated) fits right in to the morally ambiguity of the show's sensibility, where legal action on this level is nothing short of warfare.