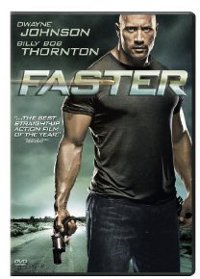 Multiple Oscar nominee "127 Hours" (Fox) with James Franco (which, in the interests of truth in advertising, is really only 94 minutes), is reviewed here ("may be occasionally overdirected, but it's never under-felt"), along with "Love & Other Drugs" (Fox), a romantic comedy with Jake Gyllenhaal (as a Viagra salesman) and Anne Hathaway ("The only thing to dislike about "Love and Other Drugs" is how clearly, and desperately, it wants to be liked"), but they're just a couple of the major new releases this week.
"Faster" (Sony) stars Dwayne Johnson as a vengeful ex-con who gets out of prison with one goal: the hunt down the men who murdered his brother. Billy Bob Thornton is the cop on the verge of retirement who is out to stop him, Carla Gugino his partner and Oliver Jackson-Cohen a hitman out to stop Johnson before he finishes his checklist.
""Faster" feels like an artifact from another, simpler time, but it still has plenty of power when the people behind the wheel hit the gas," praises MSN critic James Rocchi, who confesses that it is "far from perfect" and yet "there is something to admire: a certain nobility of ignoble purpose; its willingness to explore territories of revenge and regret and repentance that few action films even hint at; the way it revolves around characters who are not superheroes or spies or mythic beings being set up to launch a franchise but instead simply mortals put in motion to tell a single story."
More on Faster plus Burlesque, Genius Within: The Inner Life of Glenn Gould and more at MSN Videodrone.