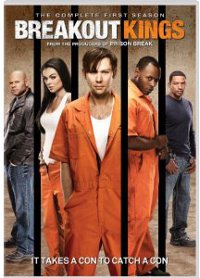 Breakout Kings: The Complete First Season (Fox), from the creators of "Prison Break," applies to the "It Takes a Thief" idea to a special U.S. Marshal squad assigned to catching escaped convicts: this team uses the unique gifts and insights of a handpicked team of convicted criminals (some of them successful breakout artists themselves) to track the most dangerous runaways. It's a damaged crew on both sides of the law: the squad boss (Laz Alonso) has a bad heart, the field leader (Domenick Lombardozzi) is a both a dedicated and driven officer and a "dirty cop" on probation for theft, and their intelligence officer (Brooke Nevin) is agoraphobic. And the convicts, well, are an arrogant genius (Jimmi Simpson) with a gambling problem, a former drug dealer (Malcolm Goodwin) with underworld connections, and a convicted killer (Serinda Swan) with mad tracking skills and a young daughter she just wants to return to. The motivation is basic: every target they catch knocks a month from their respective sentences, but if they run, they go back with added years. These folks don't play well with others, but they have powerful incentives to make it work.
The show has the attitude and style of the FX crime dramas, and in fact it was pitched to FX originally, but it ended up on A&E, a cable network working hard to establish its own slate of original dramas (currently it is the king of docu-reality programming like "Hoarders" and "Pawn Stars"). Good fit or not, it's a smart twist on the high-energy crime show with an organic sense of urgency: not only is there a 72-hour window before escaped prisoners are generally beyond the reach of the Marshals, but a convict on the run is more dangerous than your average criminal because, given the time facing them upon capture, they have nothing to lose. This show doesn't flinch from that — some of the targets leave quite a trail of victims (both criminal and civilian) in their wake — but apart from a targeted hostage in the season finale, the show has yet to make this anything more than motivation. Still, the show in engaging from the pilot and keeps the internal tensions churning throughout  the season. And, fittingly, the third episode stars Robert Knepper as Theodore 'T-Bag' Bagwell, the very same inmate he played in "Prison Break," complete with severed hand and psychopathic personality.
13 episodes on four discs, plus commentary on two episodes (including the pilot), deleted scenes and featurettes. DVD only. The new season is already underway on A&E. See a trailer for the T-Bag episode below, after the jump.