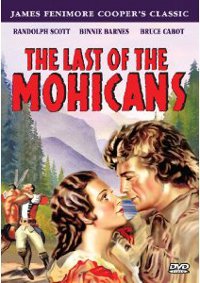 The Last of the Mohicans (Hen's Tooth), the 1936 version of James Fenimore Cooper's adventure, stars Randolph Scott stars as trapper and frontiersman Hawkeye. As in the novel, the Caucasian Hawkeye travels with Chingahook, the last chief of the Mohican tribe, and Uncas, Chingahook's son, and refuses to join the war against the French but becomes involved when he rescues a British officer and two British women from an ambush.
Philip Dunne's screenplay takes some defining liberties with the novel that were picked up in subsequent versions, notably a romance between Hawkeye and Alice (Binnie Barnes), daughter of a British colonel fighting on the frontier, to take focus from romance between Uncas and Cora, Alice's younger sister, in Cooper's story (preserved in the 1920 silent version). But it is an exciting and involving effective screen version, with Scott as a strong-willed but civilized Hawkeye and Henry Wilcoxon playing a British officer with humility and honor, and some impressive outdoor footage amidst stage-bound scenes in studio forests. It also looks forward to John Ford's "Drums Along the Mohawk" in its portrait of the French-Indian War and the various tribes aligning with one European side or another, and Michael Mann credits this script as a source for his 1992 adaptation with Daniel Day-Lewis. This is clearly a product of its era, with white actors playing the Native Americans under make-up, but it presents the tribes with a sense of dignity and, for all the nation-building patriotism of the ending, offers an interesting take on the real birth of the nation.
While this is not a restored print, it is mastered from a 35mm print and looks just fine, with some wear and print damage, and it is superior to previous DVD releases. No supplements.