Fear and Loathing in Las Vegas (Criterion)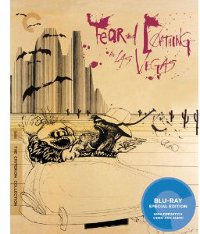 Terry Gilliam's hallucinatory 1998 adaptation of Hunter S. Thompson's classic of gonzo journalism stars Johnny Depp as Thompson's alter ego Raoul Duke and Benicio De Toro (thrillingly and terrifying unencumbered by any behavioral boundaries) as Dr. Gonzo in the drug-fueled carnival atmosphere of Las Vegas, circa 1971. It was a flop at the time, too dark and weird and unhinged for mainstream cinema, and like many Gilliam films it's entrancing on a moment-to-moment level, losing itself in the swirls and eddies of the narrative. Sort of like Thompson in Vegas. "The closest sensory approximation of an acid trip ever achieved by a mainstream movie," wrote Stephen Holden in the New York Times.
Criterion released the film on a deluxe two-disc edition eight years ago. The Blu-ray debut features all the supplements of that release: three commentary tracks (one by director Terry Gilliam, one by stars Johnny Depp and Benicio Del Toro, and one by producer Laila Nabulsi and author Hunter S. Thompson), deleted scenes with commentary by Gilliam, the 1978 BBC "Omnibus" documentary "Fear and Loathing on the Road to Hollywood" (with Hunter S. Thompson and artist Ralph Steadman), the ten-minute featurette "Hunter Goes to Hollywood," an audio documentary on the controversy over the screenplay credit, a survey of the marketing campaign, selections from the correspondence between Johnny Depp and Hunter S. Thompson (read on camera by Depp), an excerpt from the 1996 audio CD "Fear and Loathing" starring Maury Chaykin, Jim Jarmusch, Harry Dean Stanton, and Glenne Headly, background notes on Oscar Zeta Acosta (the real life activist and attorney who inspired the character of Dr. Gonzo), and galleries of storyboards, stills, and Ralph Steadman art. The accompanying booklet features a short appreciation by J. Hoberman and reprints of two Thompson pieces (from "The Great Shark Hunt" and "Fear and Loathing in America").
More Blu-ray reviews (including El Topo, The Holy Mountain and The Scent of Green Papaya) at MSN Videodrone.