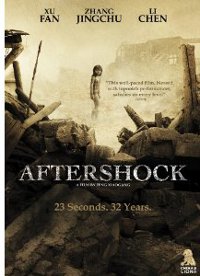 Aftershock (China Lion), currently the most popular domestic blockbuster in Chinese history, spins a family melodrama through two devastating earthquakes, opening with the 1976 earthquake that assaulted Tangshan, China and killed an estimated 240,000 in a city of around a million people. This is no disaster film, however. The spectacle is used to illustrate the scale of the event that shatters one family, and the Sophie's Choice decision by a hysterical, panicked mother that haunts the survivors over the decades. The shadow of the 2008 Sichuan earthquake not only hangs over the film, it bookends it in a respectful and touching way. No recreation here, simply a survey of the aftermath as those who survived 1976 return to help here. In between is a sprawling melodrama and an interesting survey of China during and after Mao.
A marriage of historical prestige picture and popular melodrama, Aftershock is a crowd pleaser with real-life resonance and no political subtext – kind of like China's version of Titanic. It's full of the sentimentality that we tend to dismiss as hokey overkill, but director Feng Xiaogang uses it as a respectful way to explore loss and pay tribute to the lives lost and damaged in the two quakes. It didn't get the international acclaim or attention of the Chinese arthouse auteurs like Chen Kaige or Zhang Yimou or Jia Zhangke but it sure brought in audiences in China, where it made $100 million.
Which makes it an interesting choice to launch China Lion, a DVD label releasing (in partnership with New Video) big, popular, star-powered productions from mainland China. In the coming months, this label will be releasing the kinds of Chinese imports that you may not have realized even played the U.S. because they skipped the arthouse and went directly to multiplexes in communities with large Chinese and Asian populations. Among the upcoming titles: a Chinese remake of "What Women Want" with Andy Lau and Gong Li. Seriously, did you even know it existed? In Chinese with English subtitles, no supplements.