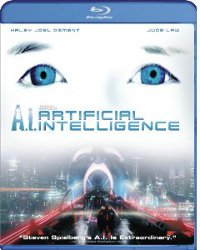 A.I. Artificial Intelligence (Paramount)
Steven Spielberg meets Stanley Kubrick in this dark, visionary fairy tale, something like a cyber-punk "Pinocchio" with a robot boy who wants to be human despite the cruelty and hate he finds on his odyssey. It makes for a fascinating melding of sensibilities: the cold pessimism of Kubrick's view of humanity's self destruction warmed by Spielberg's passionate belief in the power of love and faith in the human soul.
Haley Joel Osmet, so preternaturally removed from himself in "The Sixth Sense," is the robot boy David, and he proves his abilities in a performance so controlled and so genuine that it's been unfairly overlooked by many critics. Jude Law is the "love robot" Gigolo Joe, gliding on confidence and charm as he dances and traipses through the movie with a song in his neck. He's a clockwork recreation of a Hollywood Lothario without a scheming circuit in his body: sex and innocence with a seductive sheen. Spielberg's craft is impeccable and the challenge of meeting Kubrick's story with his own sensibility (Spielberg wrote the script from Kubrick's treatment and notes) has pushed him into new, somewhat scary territory: more cerebral, less hopeful, yet just as passionate. If the film seems to fall short of his ambition, perhaps it's because he's never set himself such an ambitious goal.