2007 has been a good year for me. This year I passed the 12-year mark in Seattle, making this the longest I've ever lived consecutively in one city. I developed a taste for gunpowder green tea and yellow curry, thanks to an Asian market that opened right next to a nearby multiplex. I discovered a few new authors (thank you, Arturo Perez-Reverte and Tonino Benaquisto, for joining my list of favored writers) in between continuing my run through the Spenser novels of Robert Parker and completing Neal Stephenson's "Baroque Cycle." I continued my reengagement with comics and graphic novels through bound collections of both mainstream titles (the J. Michael Staczinski-penned "Spider-Man" comics and the "X-Men" issues by Joss Whedon and Grant Morrison) and indie series (the brilliant "Powers" by Brian Michael Bendis and Michael Avon Oeming and the comics-noir "100 Bullets" by Brian Azzarello and Eduardo Risso), thanks to a library system that actually carries these titles. I continued delving into garage rock past and present (with plenty of help from Little Steven's Underground Garage). I made an effort to be, however small, a part of the lives of my nieces and nephews and honorary godchildren (that's what happens to the single friends of married couples). And I finally launched my own website, thanks to the diligent efforts of my dear old friend Nick Henderson and my much newer friend Felipe Lujan-Bear. I'm still working on the rest of my 2007 New Year's resolutions, but I'm happy with the headway I've made so far.
And professionally, it's been a great year. After a decade of developing and writing my DVD column online, first for film.com and then for the IMDb, I approached MSN with a proposal to expand and enrich their coverage. My column went live in April and I've been writing a weekly column for them ever since. I also started writing for Turner Classic Movies in 2007, which I've greatly enjoyed, I continue to write for the Seattle Post-Intelligencer and GreenCine.com, and this year I attended my first Toronto International Film Festival, which is a film lover's paradise and the critic's keys to the kingdom.
I had grand plans for the week leading up to New Year's Eve, but I wound up taking it easy and focusing on things close to home – getting back into jogging, organizing my finances for taxes, cleaning house (literally – a near-complete top to bottom clean), and clearing out the clutter by hauling off all those things I'd been saving to donate. I called my parents to wish them a happy anniversary (I'm lousy with birthdays, but I always remember my parents' anniversary as it is on New Year's Eve) and listened to "Odyssey and Oracle" by The Zombies, a magnificent pop album released long after the band had broken up, with only one hit ("Time of the Season") but a unity close to perfection. I opened a bottle of Benton-Lane First Class 2003 Pinot Noir (from the Willamette Valley, my previous home), had a dish of spaghetti, and spent New Year's Eve repeating what has become my annual ritual: staying at home (avoiding the roads full of drivers under the influence) and watching the DVDs that I've been wanting and meaning to see for months or even years. This year, it was King Hu's Dragon Gate Inn, on a poorly mastered import disc with shoddy subtitles, yet was glorious enough to overcome those surface deficiencies. For those of you unfamiliar with the director, Hu is the godfather of the genre known as "wuxia pian," or romantic chivalry, and was a major inspiration of the Hong Kong New Wave and director Tsui Hark (who remade the film as Dragon Gate), and of the Oscar-winning Crouching Tiger, Hidden Dragon, which is practically a tribute to the films of King Hu.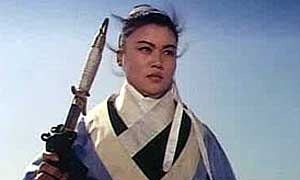 Dragon Gate Inn is a pure delight, a wild ride of an action film with a sprawling cast representing all sorts of forces who converge on the inn of the title, which lies open and exposed in the middle of the desert. An ambush is plotted by a powerful eunuch, but mysterious figures have, for various reasons, gathered to protect the targets of the assassination conspiracy. Swords flash, poison wine is spilled, arrows fly, armies clash, and rather humorous insults are thrown at the eunuch. Yet it was one otherwise unmemorable moment of the film, a slow track forward in POV shot of the warrior heroine creeping up on the occupied inn of the title, that sparked a purely reflexive response in me: damn, how I love a slow tracking shot, one that creeps with such deliberation that you feel transported into the movement. It started me thinking about those techniques and conventions and details we otherwise take for granted, yet transform otherwise mundane films into visceral experiences, and in the hands of an artist can be turned into transformative moments.
So I started cataloguing, off the top of my head, just a few things about the cinema that transport me, thrill me, engage me, excite me, stir me, and reward me – in films conventional and curious, good and bad, terrible and transcendent. I'm dedicated to exploring cinema for the good and the great, but there are so many things that me engaged in between that I felt compelled to list just a few…
Things I'm thankful for:
Howard Hawks – I could put any number of directors here, I suppose, but there is no single director whose world I find more comforting to visit.
The perfect match cut – I realized that I was not meant to be a director in college because I never really had a story to tell when I was making student films, but I could spend hours mucking about on the sloppy, pre-digital videotape editing deck of my college perfecting the editing of my rushes, alternately flaunting exaggerated shifts in perspective and angle and hiding cuts in the movement within the frame. (I might have turned out to be a good editor if I kept with it, but I ultimately found myself drawn to writing more than filmmaking, and I followed my impulses.) I'm still swept along by editing that follows the action to slide from shot to shot and carries the viewer along quietly through rhythms. It was during the third screening of John Woo's Hardboiled that I noticed how Woo used the momentum and vectors of action to guide his cutting in the opening restaurant shoot-out. It makes the runaway momentum feel even more out of control and chaotic, but Woo is in complete control.