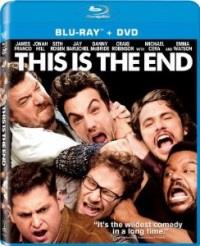 New Releases:
"This is the End" (Sony) is the directing debut of screenwriting team Seth Rogen and Evan Goldberg and they bring in their friends (among them James Franco, Jonah Hill, Jay Baruchel, Danny McBride, Craig Robinson, Michael Cera, and Emma Watson) to parody themselves in an end-of-the-world party. "A nastier, maybe funnier comedy could have been hammered out," offers MSN film critic Glenn Kenny, but admits that "The movie definitely struck a chord with the crowd I saw it with, who seemed to find the amiable celebrity self-send-up, limited as it was, as agreeable as the perfunctory musings on morality that might be contemplated in the event of a "Seventh Seal"-style visitation of godly wrath on our world."
Blu-ray and DVD, with filmmaker commentary, featurettes, and additional "confessionals." The Blu-ray also includes six additional featurettes, deleted scenes, gag reel, and "Line-O-Rama" montages of ad-libs. Also VOD and On Demand.

"Putting an often-clever spin on the classic "family road trip" trope, DreamWorks' "The Croods" (Fox) sets its wacky family high jinks during prehistoric times," writes MSN film critic Kate Erbland, "introducing audiences to the eponymous Croods, who are still relying on some of their more animal instincts… to survive in a harsh, ever-changing world." Nicholas Cage, Emma Stone, Ryan Reynolds, and Catherine Keener headline the voice cast. Blu-ray, Blu-ray 3D, and DVD, with two featurettes and deleted scenes. The Blu-ray editions include interactive supplements and bonus DVD and digital copies of the movie. Also VOD and On Demand.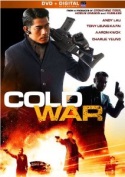 Foreign pick this week is the Hong Kong cop thriller "Cold War" (Lionsgate), a rather complicated mix of heist mastermind thriller, inside job conspiracy, and departmental power struggle over control of the case. Director Leung Lok Man masters that coldly precise style of South Korean action cinema which helps navigate the confusing twists, making it a satisfying genre exercise, if little more. Aaron Kwok and Tony Leung Ka Fai headline the busy cast, which includes Charlie Yeung and Andy Lau in a showy walk-on. Cantonese with English subtitles and optional English soundtrack, DVD, with a featurette and interviews.
Indie pick is "An Oversimplification of Her Beauty" (Cinema Guild, DVD), a portrait of a relationship explored through a mix of experimental techniques: "be prepared to be dazzled — and maybe a bit dizzy," promises Los Angeles Times film critic Gary Goldstein. DVD, with two commentary tracks (by director Terence Nance and actress Namik Minter), two short films from Nance ("How Would You Feel?" from 2006 and "Exorcising Rejection" from 2008), and deleted scenes.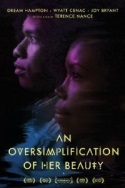 Also new: the manhunt thriller "The Frozen Ground" (Lionsgate, Blu-ray, DVD) with Nicholas Cage and John Cusack, the French romantic fantasy "With Love… from the Age of Reason" (First Run, DVD) with Sophie Marceau, and the indie "Turtle Hill, Brooklyn" (Breaking Glass).
And the B-Sides roundup of direct-to-disc and made-for-cable films spotlights a pair of sequels you probably never even knew were made — "Showgirls 2: Penny's From Heaven" (Wild Eye) and "Easy Rider: The Ride Back" (Horizon) — among the dozens of titles released last month.
Most releases are also available as digital download and VOD via iTunes, Amazon, and other web retailers and video services.

Cool and Classic:
King Vidor's "The Big Parade" (Warner) is one of the greatest and grandest human dramas of the silent film era, a superb anti-war drama with John Gilbert as the spoiled American rich kid who grows up fast under fire in World War I. Vidor, who was one of the greats of the twenties (and, to be fair, of the sound era as well) opens the film in classic platoon movie mode, with disparate characters from all walks of American life going into basic training and finding camaraderie in their patriotic dreams of glory, and then drops them in the horrors of World War I. He stages some haunting and devastating war scenes and masterfully brought his own touch to the use of expressive editing to build tension and communicate terror and chaos. Audiences responded, making this 1925 release the top-grossing silent film of the original silent era.
Blu-ray with commentary by film historian Jeffrey Vance with archival audio interviews with King Vidor, the 1973 TV documentary "The Men Who Made the Movies: King Vidor," and a vintage short from 1925, in a digibook case with 64 pages of notes, stills, art, and advertising material.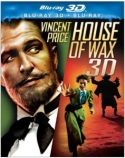 "House of Wax 3D" (Warner) marks the Blu-ray 3D debut of the most successful film of the fifties 3D craze, which also made Vincent Price a star of the macabre. The Blu-ray features both 3D and standard editions of the film, with commentary, new featurette "House of Wax: Unlike Anything You've Seen Before," a vintage newsreel, and the original 1933 film "Mystery of the Wax Museum," the early two-color Technicolor film directed by Michael Curtiz that was the basis for the 3D remake.
"The Wizard of Oz: 75th Anniversary" (Warner, Blu-ray, Blu-ray 3D, and DVD) predated 3D exhibition but Warner has gone back and digitally created a 3D edition from the original materials. It comes to disc after a brief big screen release, along with all of the editions and supplements from the "70th Anniversary" Blu-ray release.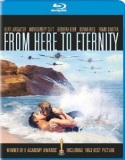 "From Here to Eternity" (Sony, Blu-ray) is adult Hollywood filmmaking from the 1950s at its peak. Based on the World War II novel by James Jones, the 1953 film, set at the Pearl Harbor naval base in the days before December 7, 1941, stars Burt Lancaster, Montgomery Clift, Deborah Kerr, Donna Reed, and Frank Sinatra in a role that earned him an Oscar and began his comeback. It won eight Oscars in all, including Best Picture, Best Director, and Best Screenplay.
Also new: "The Little Mermaid: Diamond Edition" (Disney, Blu-ray and Blu-ray 3D) offers Blu-ray editions of the animated modern classic, including another digitally-engineered​​3D edition of a non-3D film; "The Amityville Horror Trilogy: Deluxe Collector's Edition" (Shout Factory, Blu-ray) collects the 1979 original and the two low-budget sequels in a Blu-ray box set, and "The Extraordinary Adventures of Adele Blanc-Sec: Director's Cut" (Shout Factory, Blu-Ray, DVD, VOD) features a longer cut of the French comic-strip adventure film that was released earlier this fall; and "The Medusa Touch" (Hen's Tooth, Blu-ray+DVD Combo) stars Richard Burton and Lee Remick.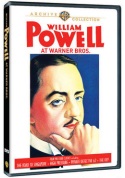 "William Powell at Warner Bros." (Warner Archive) collects four films from the pre-code era featuring the suave operator in silver-tongue mode. He's in particularly fine form in "High Pressure" (1931) as a promoter who sells stock in an artificial rubber company like a carnival barker at a sideshow and in "Private Detective 62" (1933) as a special agent on the lam who becomes a New York gumshoe and brings scruples to the unscrupulous business. The latter is directed by Michael Curtiz, who also directs him in "The Key" (1934) and the set is completed with the South Seas melodrama "The Road to Singapore" (1931). The initial copies are traditional replicated DVDs, with subsequent editions burned in the MOD mode.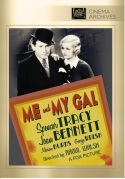 Spencer Tracy is an Irish beat cop in the 1932 "Me and My Gal" (20th Century Fox Cinema Archives), and that amiable mug is one of his most likable characters in his career. As he and diner waitress Joan Bennett romance one another through sassy banter, Tracy also gets involved in her family drama when a sister gets tangled up with gangsters. Director Raoul Walsh tosses in an unexpected (and very funny) peak into their thoughts in a clever scene with witty voice-over that contrasts their spoken dialogue, and he beats Woody Allen to the gag by four decades. Very playful, quite warm, and a great time.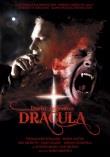 New On Demand:
Available on Friday, October 4, same day as theatrical release, is "Argento's Dracula" with Asia Argento as Lucy, Rutger Hauer as Van Helsing, and Thomas Kretschmann as Dracula. Also on Friday, the dramas "Concussion" with Robin Weigert and Maggie Siff and "Sweetwater" with Ed Harris and January Jones and the documentary "Linsanity," same day at theaters.
Debuting On Demand before theaters is are the dramas "Big Sur" with Kate Bosworth and Josh Lucas and "Last Love" with Michael Caine and Clémence Poésy and the comedy "Best Man Down" with Justin Long.
Available same day as disc is the comedy "This Is the End" with Seth Rogen and Jonah Hill and the animated "The Croods."