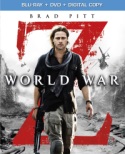 New Releases:
"World War Z" (Paramount), produced by and starring Brad Pitt and based on the best-selling novel by Max Brooks, takes a global perspective on the zombie horror. It preserves the episodic snapshots of a world under siege of the book while adding an action thriller / mission odyssey storyline to create a narrative backbone. What could have been an awkward mix is in fact quite effective in putting the focus on the human equation of the horror. Videodrone's review is here and you can enter a giveaway to win one of five copies of the Blu-ray+DVD Combo Pack, including one copy signed by the stars. Blu-ray, Blu-ray 3D, DVD, On Demand and VOD.
Sofia Coppola's "The Bling Ring" (Lionsgate), based on a true story, takes us for a ride through the closets and cribs of the rich and famous by way of a ring of high school thieves who target celebrity homes. Reviewed by Videodrone here. Emma Watson and Taissa Farmiga star. Blu-ray, DVD, On Demand and VOD.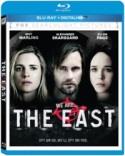 "The East" (Fox), the second collaboration between screenwriter / actress Brit Marking and screenwriter / director Zal Batmanglij, casts the talented Marling as an agent for a private security firm sent undercover to infiltrate an eco-minded activist collective that targets corporate leaders. Blu-ray, DVD, VOD and On Demand.
Also new: Steven Soderberg's made-for-cable "Behind the Candelabra" (HBO, Blu-ray, DVD) with Matt Damon as Thorson and Michael Douglas as Liberace, the Brooklyn-based indie "Gimme the Loot" (IFC, DVD) about a pair of graffiti artists on a long, hot summer day, Michel Gondry's "The We and the I" (Virgil, DVD) shot in the Bronx, "Bless Me, Ultima" (Sony, DVD, On Demand) from director Cark Franklin, and two French films: "Augustine" (Music Box, Blu-ray, DVD) with Vincent Lindon and French pop star Soko and "War of the Buttons" (Anchor Bay, DVD, Netflix Instant) with Laetitia Casta and Guillaume Canet.
Most releases are also available as digital download and VOD via iTunes, Amazon, and other web retailers and video services.
Browse the complete New Release Rack here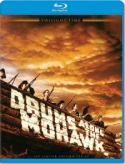 Cool and Classic:
"Drums Along the Mohawk" (Twilight Time), John Ford's gorgeous 1939 pre-western about young settlers in the rich forest lands of the Mohawk Valley during the Colonial era, was the director's Technicolor debut, and his painterly images have never looked better than on this this Blu-ray release. Claudette Colbert and Henry Fonda star, and the disc includes the 2007 documentary "Becoming John Ford" and commentary among the supplements. Videodrone's review here.
Jean-Pierre Melville's "Two Men in Manhattan" (Cohen), shot in part on location in New York City in 1958, is a newspaper picture with the sensibility and style of a private detective odyssey. It makes its American home video debut on DVD and Blu-ray. Reviewed by Videodrone here.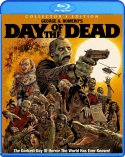 "Day of the Dead: Collector's Edition" (Shout Factory), George Romero's third "Dead" feature, comes to DVD and debuts on Blu-ray in a newly remastered edition with new and archival supplements.
Also remastered is Ingmar Bergman's "Autumn Sonata" (Criterion), starring Ingrid Bergman and Liv Ullman, getting a Blu-ray debut and a new DVD special edition.
More Blu-ray debuts: "A Letter to Three Wives" (Fox) with Ann Southern, Linda Darnell and Jeanne Crain, Richard Linklater's "Slacker" (Criterion), and "The Devil Bat" (Kino) with Bela Lugosi.
The MOD Movies round-up delves into the B-movies of the Hollywood's golden age, including "Women in Bondage" and "Where Are Your Children."
All of the Cool and Classic here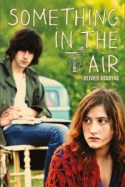 Streams and Channels:
"Something in the Air" (2012) is Olivier Assayasa's quasi-autobiographic​al portrait of youth culture in the volatile period after the student protests of May 1968, arrives on Netflix Instant a week before it debuts on DVD. Videodrone's review is here.
Also at Netflix is Lisa Cholodenko's comic drama "The Kids are All Right" (2010) with Annette Bening and Julianne Moore and "I Killed My Mother" (2009), the directorial debut of current film festival darling Xavier Dolan.
Hulu has a "Bad Trips" festival from the Criterion Collection, with such films as Roman Polanski's sharp "Knife in the Water" (1962) and Peter Weir's dreamy "Picnic at Hanging Rock" (1975) streaming free through the weekend.
Fandor has "Rivers and Tides" (2001), Thomas Riedelsheimer's award-winning documentary on the art of Andy Goldsworthy, and cult horror films by Jean Rollin, and Warner Instant has "Point Blank" (1967), John Boorman's one-of-a-kind thriller with Lee Marvin, and a "Showcase" of LA-based films available in HD.
Browse more streaming and/or cable offerings here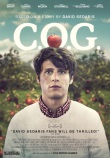 New On Demand:
"C.O.G.," a comedy adapted from the work of David Sedaris (with Jonathan Groff in the Sedaris role), debuts on Friday, September 20, the same days as its theatrical debut. Reviews here. "Blue Caprice" opened in theaters last week and is now On Demand (reviews here). "Paradise," a comedy with Julianne Hough and Russell Brand, debuts weeks in advance of its theatrical release.
Same day as disc comes "World War Z" (available in the unrated version) with Brad Pitt against zombies, Sofia Coppola's "The Bling Ring," "The East," the second collaboration between screenwriter / actress Brit Marking and screenwriter / director Zal Batmanglij, "Bless Me, Ultima," and "Disconnect."
The TV on Disc releases for the week, including the "Psycho" prequel / reimagining "Bates Motel: Season One" (Universal) and the cult superhero show "Arrow: The Complete First Season" (Warner), are at TV Buzz.