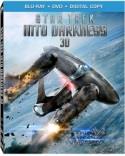 New Releases:
"Star Trek Into Darkness" (Paramount), the second film in JJ Abrams' series prequel / reboot / alternate universe take, has become quite the hot topic. It was both a summer hit (in a summer filled with expensive flops) and voted by fans of the Roddenberry universe as the worst "Star Trek" film of all time. Blu-ray, Blu-ray 3D and DVD. Read Videodrone's review here (as well as notes on the supplements and the controversy), see an exclusive clip from the Blu-ray extras, and enter to win a signed poster and a copy of the Blu-ray+DVD Combo.
Susanne Bier's film "Love is All You Need" (Sony), starring Pierce Brosnan and Trine Dryholm, "handily tears down rom-com tradition in order to build it all back up in surprisingly satisfying ways," praises MSN film critic Kate Erbland. Blu-ray, DVD, and On Demand.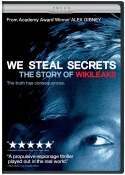 Indie pick this week is "War Witch" (Cinedigm, DVD), about a child soldier in an unidentified sub-Saharan African nation and directed by French-Canadian filmmaker Kim Nguyen, and documentary pick is "We Steal Secrets: The Story of Wikileaks" (Universal, DVD), Alex Gibney's documentary about Julian Assange, Bradley Manning, and the greatest security breach in U.S. history.
Also new: "Peeples" (Lionsgate, Blu-ray and DVD), a comedy with Craig Robinson and Kerry Washington and "presented by" Tyler Perry, and "Frankenstein's Army" (MPI, Blu-ray and DVD), a gory World War II horror film with a man-mad army of monsters.
"World War Z" (Paramount) debuts on Digital and Digital HD this week, in advance of the September 17 Blu-ray and DVD release.
Most releases are also available as digital download and VOD via iTunes, Amazon, and other web retailers and video services.
Browse the complete New Release Rack here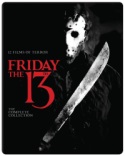 Cool and Classic:
"Friday the 13th: The Complete Collection" (Warner) boxes up all 12 films in the trend-setting slasher movie franchise, from the original 1980 debut through all the sequels to the 2009 revival (plus bonus disc of extras) on Blu-ray. It marks the Blu-ray debut for five of the films and the first time all of the movies have been collected in one set, and includes a 40-page booklet. Videodrone's review is here.
"The Spy Who Came In From the Cold" (Criterion), starring Richard Burton and directed by Martin Ritt, is the first screen adaptation of a John le Carré novel and still one of the finest. It debuts on Blu-ray with plenty of supplements. Also debuting on Blu-ray is the original 1958 "The Fly" (Fox), which is a very different insect from the David Cronenberg remake.
Also new: the 1978 arthouse hit "La Cages aux Folles" (Criterion, Blu-ray and DVD) with Ugo Tognazzi and Michel Serrault, the rediscovered cult film "An American Hippie in Israel" (Grindhouse, Blu-ray+DVD Combo) from 1972, and Jan Nemec's "Code Name Ruby" (Facets, DVD) from Czechoslovakia.
All of the Cool and Classic here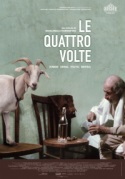 Streams and Channels:
"Le Quattro Volte" (2010) from Italy is a meditation on the mysterious cycles of life inspired by the "four-fold transmigration" of souls that Pythagoras proposed: the soul passes from human to animal to vegetable to, eventually, the eternal. It's also a kind of stylized documentary of existence in this little mountain village in Italy. It's available on Fandor and newly arrived on Netflix Instant.
Fandor also debuts "A Day at the Beach" (1970), a rarity scripted by Roman Polanski that has not been released on disc in the U.S.
Also new on Netflix: Paul Thomas Anderson's "There Will be Blood" (2007) with Daniel Day-Lewis, Terrence Malick's "To the Wonder" (2012) with Ben Affleck and Olga Kurylenko, and "Parker" (2013), with Jason Statham.
Amazon Prime has Clint Eastwood's "Mystic River" (2004), with Oscar-winning performances by Sean Penn and Tim Robbins, and "Zoolander" (2001) with Ben Stiller and Owen Wilson, Hulu has "Birthday Girl" (2002) with Nicole Kidman, and Warner Archive features Nicholas Ray's "On Dangerous Ground" (1952) with Robert Ryan and Ida Lupino.
Browse more streaming and/or cable offerings here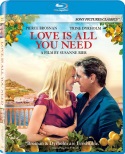 New On Demand:
"All Is Bright," a comedy starring Paul Rudd and Paul Giamatti as a Canadian odd couple who travel to New York City to buy Christmas trees to sell up north, is director Phil Morrison's follow-up to his breakthrough indie hit "Junebug."
Arriving same day as disc is "Star Trek Into Darkness" (also available on 3D), the second film in JJ Abrams' reboot of the franchise, Susanne Bier's Danish romantic comedy "Love Is All You Need" with Pierce Brosnan and Trine Dyrholm, and the Aussie thriller "Wish You Were Here" with Joel Edgerton and Teresa Palmer.
The TV-on-disc coverage, including "Chicago Fire: Season One" (Universal) and "Parade's End" (HBO), is on the TV Buzz blog here.