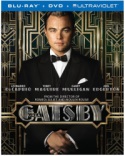 New Releases:
"The Great Gatsby" (Warner), Baz Luhrmann's dazzling, bigger-than-life adaptation of F. Scott Fitzgerald's jazz-age masterpiece, casts Leonardo DiCaprio as the enigmatic Jay Gatsby, the self-made millionaire who suddenly appears in a Long Island mansion with wild parties and a past shrouded in myth and gossip. But arguably the star of the film is the lavish production design, the spectacle of excess, the chasm between the flamboyant rich and the hardscrabble poor, all presented with the theatrical exaggeration of a filmmaker in love with the artifice of Hollywood. Blu-ray, Blu-ray 3D, DVD, On Demand, VOD, and digital download. Videodrone's review is here, and you can enter to win a disc and signed poster here.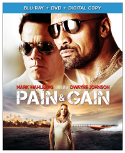 Mark Wahlberg, Dwayne Johnson, and Anthony Mackie star in "Pain & Gain" (Paramount), based on "an unbelievable true story" of a steroid-fueled heist gone horribly wrong and directed by Michael Bay, who puts aside his CGI toys to make a social satire of a distorted American dream. Blu-ray, DVD, On Demand, VOD, and digital. Reviewed here, where you can also see an exclusive clip.
"Kon Tiki" (Anchor Bay), a Norwegian drama directed by Joachin Rønning and Espen Sandberg, was an Oscar nominee for Best Foreign Language film. Blu-ray, DVD, On Demand, VOD, and digital. Other foreign imports include the animated French feature "The Painting" (Cinedigm, Blu-ray and DVD) and "Unit 7" (Kino Lorber, DVD), a gritty urban drama from Spain.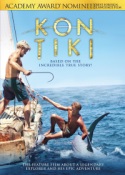 Also new: "At Any Price" (Sony, Blu-ray, DVD, On Demand, VOD, and digital) with Dennis Quaid and Zac Ephron, "The Reluctant Fundamentalist" (MPI, Blu-ray and DVD), Mira Nair's film of Mohsin Hamid's bestselling novel, and the British thriller "Shadow Dancer" (Magnolia, Blu-ray and DVD).
"Now You See Me" (Summit), the sleight-of-hand heist thriller about a group of magicians who rob in plain sight, debuts exclusively on digital download on Friday, August 30, four days before Blu-ray and DVD release.
Most releases are also available as digital download and VOD via iTunes, Amazon, and other web retailers and video services.
Browse the complete New Release Rack here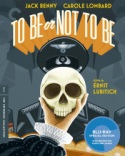 Cool and Classic:
Ernst Lubitsch's 1942 "To Be or Not To Be" (Criterion) stars Jack Benny and Carole Lombard as Polish theater stars who becomes unlikely resistance heroes during Hitler's march across Europe. It takes the Lubitsch touch to create the funniest film ever made about the German invasion of Poland. The Criterion debut on Blu-ray and DVD is packed with supplements. Videodrone's review is here.
"Early Fassbinder: Eclipse Series 39" (Eclipse) collects five of Rainer Werner Fassbinder's earliest films, from his 1969debut feature "Love Is Colder Than Death," a stark B&W gangster riff, to his 1971 color drama "Beware of a Holy Whore," a movie-making satire. DVD. Reviewed on Videodrone here.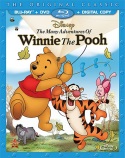 Debuting on Blu-ray is "The Many Adventures of Winnie the Pooh" (Disney), which collects three classic animated shorts, "Q: The Winged Serpent" (Shout Factory), Larry Cohen's witty monster movie in New York City, and "The Idolmaker" (Shout Factory), directed by Taylor Hackford.
James Cagney is a psychotic gangster in the 1950 thriller "Kiss Tomorrow Goodbye" (Olive, Blu-ray and DVD) and Gregory Peck is a cavalry officer in the 1951 western "Only the Valiant" (Olive, Blu-ray and DVD), both produced by Cagney's company, and Cary Grant and Irene Dunne star in George Stevens' "Penny Serenade" (Olive, Blu-ray and DVD).
"Strong Language" (MVD, DVD), "The Truth Game" (MVD, DVD), and "Club le Monde" (MVD, DVD) make up Simon Rumley's London youth culture trilogy.
All of the Cool and Classic here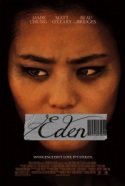 Streams and Channels:
"Abduction of Eden" (2012) is the retitling of the superb indie drama "Eden," Seattle filmmaker Megan Griffiths' dramatization of the true story of Chong Kim (who collaborated on the screen story), a Korean American teenager (played in the film by Jamie Chung) who is kidnapped and imprisoned in a sex slavery ring in the American southwest. It's available on Netflix Instant and Netflix rent by mail on disc. Videodrone's review is here.
Also recently available on Netflix Instant: the erotic vampire film "Kiss of the Damned" (2012) directed by Xan Cassavetes, the brutal "Tony Manero" (2008), Chile's official submission to the 2009 Academy Awards, and the comedy "Our Idiot Brother" (2011) with Paul Rudd.
Fandor has "My Joy" (2010), a dark road movie from Russia with a wicked black humor, and the impressionistic "Two Years at Sea" (2011), a meditative portrait of a hermit living off the grid in rural Scotland, and Warner Archive has added two Hammer horrors from 1970: "Frankenstein Must Be Destroyed" with Peter Cushing and "Taste the Blood of Dracula" with Christopher Lee.
Browse more streaming and/or cable offerings here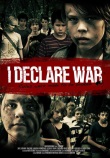 New On Demand:
"I Declare War," about a group of kids who push their game of Capture the Flag into outright warfare, is available same day as theaters. Reviews here.
Arriving in advance of theatrical release is "Bad Milo!," a comedy with  Ken Marino and Gillian Jacobs, and available before disc release is "Peeples" with Craig Robinson and Kerry Washington.
Available same day as disc: "The Great Gatsby" with Leonardo DiCaprio, also available in 3D (for folks with 3D compatible systems), plus "Pain & Gain" with Mark Wahlberg and Dwayne Johnson, "At Any Price" with Dennis Quaid and Zac Efron, and the Oscar-nominated Norwegian drama "Kon-Tiki."
TV on Disc and Streaming TV are now on the TV Buzz blog at MSN TV.