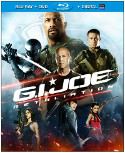 New Releases:
"G.I. Joe: Retaliation" (Paramount) adds Dwayne Johnson (code name: Roadblock), Adrienne Palicki (Lady Jaye) and Bruce Willis (as the "original" G.I. Joe) to the team for the live-action sequel. More on Videodrone here, where you can also enter to win a signed Blu-ray Combo Pack and see an exclusive clip from the Blu-ray extras. Blu-ray, Blu-ray-3D, DVD, On Demand, VOD, and digital download
"Black Rock" (Lionsgate) is a femme-centered survival thriller with Katie Aselton, Lake Bell and Kate Bosworth fighting for their lives on a small Maine island. Blu-ray, DVD, VOD and digital download.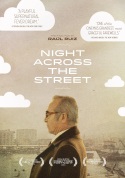 "Night Across the Street" (Cinema Guild), the funny and affectionate final feature from Raul Ruiz, is the foreign pick of the week, and Ben Rivers' debut feature "Two Years at Sea" (Cinema Guild), the gentle portrait of a hermit living off the grid in rural Scotland, is the indie pick. Both DVD only and reviewed here.
"Justice League: The Flashpoint Paradox" (Warner, Blu-ray and DVD), the latest DC Universe animated original movie, is also the darkest and most brutal of the series so far, and "Filly Brown" (Vivendi, Blu-ray and DVD) is a hip-hop musical with Gina Rodriguez and Jenni Rivera.
Most releases are also available as digital download and VOD via iTunes, Amazon, and other web retailers and video services.
Browse the complete New Release Rack here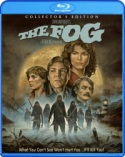 Cool and Classic:
"The Fog" (Shout Factory), John Carpenter's follow-up to "Halloween," is an old fashioned ghost story. It isn't among the director's best films, but it is one of his most gorgeous and it is been newly remastered for its Blu-ray debut and features new and archival supplements. Also on DVD. Videodrone's review is here.
"Fernando Di Leo: The Italian Crime Collection Vol. 2" (Raro) boxes up the previously-released "Shoot First, Die Later" (1974) with two disc debuts from the Italian crime maestro: "Naked Violence" (1969), a juvenile delinquent cop drama by way of social commentary, and "Kidnap Syndicate" (1975), starring Luc Merenda (the corrupt cop of "Shoot First") as the working class single father of a kidnapped boy on a one-man mission of revenge. Blu-ray and DVD. Reviewed on Videodrone here.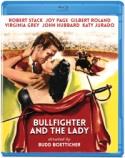 "Bullfighter and the Lady" (Olive), Budd Boetticher's quasi-autobiographic​al drama of an American bullfighter in Mexico, makes its disc debut on Blu-ray and DVD (reviewed here). Also debuting on Blu-ray and DVD is André Téchiné's "The Bronte Sisters" (Cohen) with Isabelle Huppert, Marie-France Pisier, and Isabelle Adjani.
"Foolish Wives" (Kino), Erich von Stroheim's decadent 1922 silent melodrama, is newly remastered for Blu-ray. Also debuting on Blu-ray is "Angel and the Badman" (Olive) with John Wayne, "Love Me Tender" (Fox) with Elvis Presley, and "Niagara" (Fox) and "Bus Stop" (Fox) with Marilyn Monroe.
All of the Cool and Classic here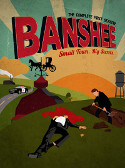 TV on Disc:
"Banshee: Season One" (HBO), the new Cinemax original series, is crime TV at its pulpiest, with contradictory characters, extreme situations, over-the-top solutions, and big dollops of big action and softcore sex. Videodrone's review is here.
"Star Trek: The Next Generation – Season Four" (Paramount), which opens with the conclusion to the Borg war cliffhanger and ends with the Klingon civil war cliffhanger "Redemption: Part 1," debuts on Blu-ray, along with the complete two-part "Star Trek: Redemption" (Paramount) as a single-disc special edition. Reviewed on Videodrone here.
From the UK comes "Shameless: Seasons 1 & 2" (Mill Creek), which collects the first 18 episodes of the original British series about an unconventionally functional dysfunctional family, and from Canada comes "The Border: The Complete First Season" (Mill Creek), an action series about the elite squad that protects the US-Canada border.
Flip through the TV on Disc Channel Guide here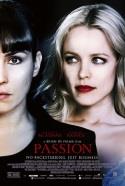 New On Demand:
"Passion," Brian De Palma's sexy new thriller of power and provocation with Rachel McAdams and Noomi Rapace, has been making the festival rounds since September and has already been released in Europe. It doesn't hit American theaters until August 30, but this week it arrives On Demand.
Paul Schrader's independently-made "The Canyons," written by Brett Easton Ellis and starring celebrity train-wreck Lindsay Lohan and James Deen, has been a topic of fascination ever since the unconventional film started shooting. It goes wide On Demand the same day it hits theaters in New York.
Also available before theaters: Lynn Shelton's "Touchy Feely" with Rosemarie DeWitt and Ellen Page and the comedy "Dead Before Dawn" with Christopher Lloyd.
Arriving same day as disc is "G.I. Joe: Retaliation" and the musical "Filly Brown" with Gina Rodriguez and Jenni Rivera, and "Emperor," starring Tommy Lee Jones as General Douglas MacArthur, is available two weeks before disc.