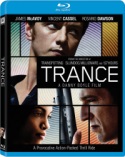 New Releases:
"Trance" (Fox), Danny Boyle's mindgame of a psychological drama, is an arthouse heist film with an amnesia twist and a con-artist's soul, with James McAvoy, Vincent Cassel, and Rosario Dawson trying to outwit one another. For a mastermind crime mind game, the twists and contrivances are pretty darn absurd, but it sure is entertaining. Videodrone's review is here, and you can explore an interactive timeline exclusively at MSN on The Hitlist. Blu-ray, DVD, On Demand, VOD, and digital download.
Sally Potter's "Ginger & Rosa" (Lionsgate) offers something we don't usually see in the movies: a sensitive and nuanced portrait of two teenage girls (Elle Fanning and Alice Englert) growing up and growing apart as they forge separate identities and diverging personalities and interests. DVD, On Demand, VOD and digital download. Reviewed on Videodrone here.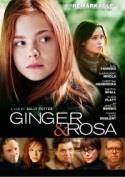 There are a pair of indie horror films this week, the Euro-flavored vampire thriller "Kiss of the Damned" (Magnet, Blu-ray and DVD) and Francis Ford Coppola's ghost story "Twixt" (Fox, Blu-ray and DVD) with Val Kilmer and Elle Fanning.
It's also a good week for foreign films, with the acclaimed thriller "Graceland" (Drafthouse/RLJ, Blu-ray and DVD) from the Philippines, the French-language comedy "Starbuck" (eOne) from Canada, and Kim Ki-duk's Korean drama "Pieta" (Drafthouse), which won the Golden Lion at the 2012 Venice Film Festival among the releases.
The recent documentary releases, including Oscar nominee "The Gatekeepers" (Sony) and "The House I Live In" (Virgil), are gathered in the monthly "True Stories" round-up.
Most releases are also available as digital download and VOD via iTunes, Amazon, and other web retailers and video services.
Browse the complete New Release Rack here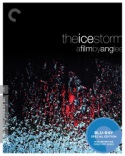 Cool and Classic:
With "The Ice Storm" (Criterion), Ang Lee leapt from the 18th century England of "Sense and Sensibility" to the malaise of suburban 1970s New England. This portrait of a family drifting apart in the wife-swapping days of Nixon's America stars Kevin Kline, Sigourney Weaver, Joan Allen, Tobey Maguire, and Christina Ricci, and it debuts on Blu-ray in a newly-remastered Criterion edition.
Also getting the Criterion treatment is "Babette's Feast" (Criterion), Gabriel Axel's 1987 Academy Award-winning adaptation of Isak Dinesen's story and a cult film for foodies. Blu-ray and DVD, with supplements.
"WUSA" (Olive), a curious artifact of sixties social satire starring Paul Newman, Joanne Woodward, and Anthony Perkins, is reviewed by Videodrone here. Also debut in Blu-ray is "Summer and Smoke" (Olive) and "Harlow" (Olive).
All of the Cool and Classic here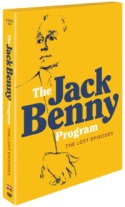 TV on Disc:
"The Jack Benny Program: The Lost Episodes" (Shout Factory) collects 18 episodes of the Jack Benny's classic TV show that have never been seen in syndication. The DVD debut of these shows, with guest stars like Gary Cooper, Harry S. Truman, John Wayne, and Rock Hudson, mark the first time they've been available since their original broadcasts. The three-disc set also includes new and archival extras, including clips from Jack Benny's comedy specials.
Also debuting on DVD is the first season of "Dragons: Riders of Berk" (Fox), the animated TV series spin-off of "How to Train Your Dragon," on a pair of two-disc DVD sets.
Flip through the TV on Disc Channel Guide here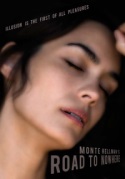 Streams and Channels:
"Road to Nowhere" (2010), Monte Hellman's first feature in 21 years, is as dense, enigmatic and challenging as his early masterpieces, and it is now available through Fandor.
Netflix has the darkly-comic heist thriller "The Ice Harvest" (2005) with John Cusack and Billy Bob Thornton and "The Intouchables" (2011) from France and Amazon Prime offers "Persepolis" (2007), Marjane Satrapi's animated adaptation of her acclaimed autobiographical graphic novels, and the classics "Dr. Strangelove" (1964) and "Dressed to Kill" (1980).
And at Warner Archive Instant, check out the pre-code kinkiness of the exotic murder-mystery "Thirteen Women" (1932) with Irene Dunne and Myrna Loy in bad girl mode.
Browse more streaming and/or cable offerings here
New On Demand:
"Drinking Buddies," mumblecore icon Joe Swanberg's first quasi-mainstream film, is an indie romantic comedy starring Olivia Wilde and Jake Johnson as coworkers at a brewery whose friendship veers toward deeper emotions and Anna Kendrick and Ron Livingston as their romantic partners, which complications tings. It premiered at SXSW and arrives On Demand on Thursday, July 25, in advance of its August theatrical release.
Also debuting On Demand in advance of theaters is the comedy "Hell Baby" with Leslie Bibb and Rob Corddry (July 25) and the thriller "Scenic Route" with Josh Duhamel and Dan Fogler (July 26), with "Stranded," a science fiction thriller with Christian Slater, Brendan Fehr arriving same day as its theatrical release on Friday, July 26.
Arriving same day as disc is Danny Boyle's mindgame "Trance" with James McAvoy and Rosario Dawson, Sally Potter's indie coming-of-age-in-six​ties-London drama "Ginger & Rosa" with Elle Fanning and Alice Englert, and the French-Canadian comedy "Starbuck."