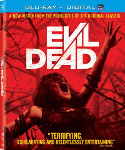 New Releases:
"Evil Dead" (Sony) is a remake of Sam Raimi's indie cult horror film, with Raimi producing and first-time feature filmmaker Fede Alvarez putting his stamp on the film. Jane Levy, Shiloh Fernandez, and Lou Taylor Pucci star in the gruesome, grueling production, "a pretty good horror movie in precisely the sensationalist sense of the original," according to MSN film critic Glenn Kenny. Blu-ray, DVD, On Demand, VOD, and digital download. Videodrone's review is here.
"42" (Warner), Brian Helgeland's big-screen biographical take on the life and legacy of Jackie Robinson, stars newcomer Chadwick Boseman as Robinson and Harrison Ford as Brooklyn Dodgers General Manager Branch Rickey. Blu-ray, DVD, On Demand, VOD, and digital download. Reviewed on Videodrone here, where you can also enter to win a Blu-ray+DVD Combo Pack plus other collectibles.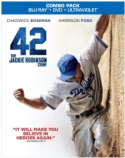 "Bullet to the Head" (Warner), starring Sylvester Stallone as an aging hit-man on a mission of payback, marks the big-screen return of director and action-movie legend Walter Hill. Blu-ray, DVD, On Demand, VOD, and digital download.
Also new: "Erased" (Anchor Bay, Blu-ray and DVD) with Aaron Eckhart and the Robert E. Howard adaptation "Solomon Kane" (Anchor Bay, DVD) with James Purefoy.
Most releases are also available as digital download and VOD via iTunes, Amazon, and other web retailers and video services.
Browse the complete New Release Rack here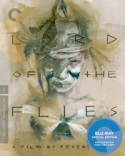 Cool and Classic:
"Lord of the Flies" (Criterion), the original 1963 version of William Golding's chilling novel, gives a clear-eyed vision of English schoolboys stranded on a desert island who sink into tribalism, savagery, and finally murder. It gets the Criterion treatment on Blu-ray and DVD with newly restored edition and plenty of new and archival supplements. Videodrone's review is here.
"Love is a Many Splendored Thing" (Twilight Time), the lush 1955 romantic melodrama starring William Holden as an unhappily married American war correspondent in Hong Kong and Jennifer Jones as a widowed Eurasian doctor, debuts on Blu-ray.
Two more Mario Bava films get new editions on Blu-ray and DVD from Kino: the original, uncut Italian version of "Black Sabbath" (Kino), one of Bava's greatest films, and his final feature "Kidnapped" (Kino), which was completed by his son, Lamberto.
Also debuting on Blu-ray: the modern romance "Sleepless in Seattle" (Twilight Time) with Tom Hanks and Meg Ryan and "Heavy Traffic" (Shout Factory), Ralph Bakshi's quasi-autobiographic​​al mix of live-action and animation.
All of the Cool and Classic here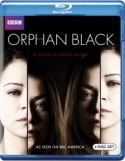 TV on Disc:
"Orphan Black: Season One" (BBC), a BBC America original series, is actually produced in Canada and features the superb Canadian actress Tatiana Maslany in multiple roles, starting with an orphan who and street hustler who takes the identity of a lookalike and discovers she is one of many clones. It's a compelling thriller with a modern story of genetic experimentation and Maslany is so good at creating distinctive personae for each character you forget she's is just one actress playing them all. 10 episodes on Blu-ray and DVD. Videodrone's review is here.
"Hell on Wheels: The Complete Second Season" (Koch), AMC's drama of the building of the transcontinental railway in the aftermath of the Civil War, takes the crew into the direct conflict with the Sioux this season. 10 episodes on Blu-ray and DVD. The third season begins in August.
"Endeavour: Series One" (PBS), the British "Inspector Morse" prequel starring Shaun Evans as the young Detective Constable and Roger Allam as his mentor, arrives on Blu-ray and DVD while the first series is still playing out in the U.S. on "Masterpiece Mystery." Four episodes.
Also new are the final seasons of three series, old and new: "Damages: The Complete Fifth Season" (Sony, DVD), "Matlock: The Ninth and Final Season" (Paramount, DVD), and "The Virginian: The Final Season" (Timeless, DVD)
Flip through the TV on Disc Channel Guide here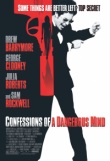 Streams and Channels:
Recent Netflix Instant arrivals include "Confessions of a Dangerous Mind" (2002), directed by George Clooney and starring Sam Rockwell as Chuck Barris, Kathryn Bigelow's "Strange Days" (1995), and Nicolas Roeg's haunting "Don't Look Now" (1973).
New on Hulu Plus is Rainer Werner Fassbinder's glorious "Effi Briest" (1974) with Hanna Schygulla and Orson Welles' "The Immortal Story" (1968) with Jeanne Moreau, and Amazon Prime has new Instant TV, including "Falling Skies: Season 2" from TNT and "Bunheads: Season 1" from ABC Family.
And if you can't all get to San Diego for Comic-Con, bring the superheroes and supernaturals to you via Netflix, Hulu, Amazon Prime, and On Demand. Here's your guide…
Browse more streaming and/or cable offerings here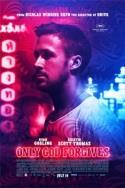 New On Demand:
"Only God Forgives" from director Nicolas Winding Refn and actor Ryan Gosling (following up their collaboration on "Drive"), will be available On Demand on Friday, July 19, same day as its American theatrical release.
"42," starring Chadwick Boseman as baseball legend Jackie Robinson and Harrison Ford as Brooklyn Dodgers General Manager Branch Rickey, debut same day as disc, as does the new remake of the cult horror film "Evil Dead" and the Walter Hill-directed "Bullet to the Head" with Sylvester Stallone.
The documentary "Koch" is available on Wednesday, July 17, a month before disc and digital.
To mark Comic-Con this weekend, On Demand has added a Comic-Con folder filled with superhero and comic-book related films, from "Batman Begins" and "Blade" to "X-Men: First Class" and "Watchmen," most of them priced between $3 and $5 a pop. You can view the previews for free.