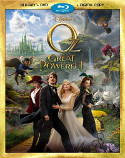 New Releases:
James Franco plays "Oz the Great and Powerful" (Disney) in the Frank L. Baum adaptation from director Sam Raimi that plays out as a prequel to the classic "The Wizard of Oz." Mila Kunis, Rachel Weisz, and Michelle Williams play the witches of Oz in this lavish production, originally released in 3D, and are more interesting characters than the shallow huckster who grows into a hero. Blu-ray, Blu-ray 3D, DVD, and VOD. Videodrone's review is here.
"Snitch" (Summit) is a Dwayne Johnson thriller that favors gritty crime drama over action movie superheroism. Susan Sarandon and Barry Pepper co-star. Blu-ray, DVD, On Demand, VOD, and at Redbox. Reviewed on Videodrone here.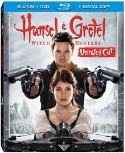 "Hansel and Gretel: Witch Hunters" (Paramount) stars Jeremy Renner and Gemma Arterton as fairy tale character grown up into fantasy warriors dispatching wicked witches and other monsters preying on the hamlets of medieval Germany. Blu-ray, Blu-ray 3D, DVD, On Demand, VOD, and at Redbox. More from Videodrone here, including an exclusive clip from the Blu-ray extras.
On the indie front is Quentin Dupieux's "Wrong" (Drafthouse, Blu-ray and DVD), an absurdist tale of a man looking for his lost dog, and from the small screen comes "Betty & Coretta" (Lionsgate, DVD) with Angela Bassett and Mary J. Blige as civil rights leaders Coretta Scott King and Dr. Betty Shabazz.
And arriving from foreign shores is the erotic thriller "The Taste of Money" (IFC, DVD) from South Korean filmmaker Im Sang-soo, plus "11 Flowers" (First Run, DVD) from China and "The Monk" (Flatiron, DVD) with Vincent Cassel from France.
Most releases are also available as digital download and VOD via iTunes, Amazon, and other web retailers and video services.
Browse the complete New Release Rack here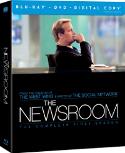 TV on Disc:
"The Newsroom: The Complete First Season" (HBO), Aaron Sorkin's HBO original series set at a cable news channel that is remarkably idealistic and full of brilliant people who have sharp political instincts and poor impulse control, arrives a month before the second season launches. 10 episodes on Blu-ray and DVD. Videodrone's review is here.
"House of Cards: The Complete First Season" (Sony) brings the Netflix original series, produced by David Fincher and starring Kevin Spacey as a savagely Machiavellian politician, to disc. 13 episodes on Blu-ray and DVD. Reviewed on Videodrone here.
"Major Crimes: The Complete First Season" (Warner) reworks the TNT original series "The Closer" with Mary McDonnell taking charge of the crack Major Crimes squad, and I actually prefer this incarnation. 10 episodes on DVD.
"Killing Lincoln" (Fox, Blu-ray and DVD) is the docudrama originally produced for the National Geographic Channel and "After People" (History) collects four speculative documentaries on DVD. Also arriving this week: "Wedding Band: The Complete First Season" (Fox, DVD), "Burn Notice: Season Six" (Fox, DVD) and "Perry Mason: The Ninth and Final Season, Vol. 1" (Paramount, DVD)
Flip through the TV on Disc Channel Guide here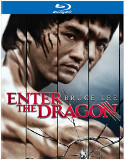 Cool and Classic:
"Enter the Dragon: 40th Anniversary" (Warner) is a new edition of the film that elevated martial arts star Bruce Lee to the status of international icon, and the last film that Lee completed before his untimely death. Blu-ray and DVD with new supplements. Videodrone's review is here.
Ingmar Bergman's "Wild Strawberries" (Criterion), a road movie transformed into a contemplative journey of an aging professor into his unexamined past, debuts on Blu-ray in a new restored digital film transfer. Reviewed on Videodrone here.
"At Long Last Love" (Fox) is the disc debut of Peter Bogdanovich's musical which flopped on release but is getting a second look in a new cut on Blu-ray and DVD.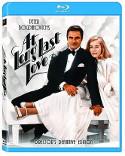 "Richard Pryor – No Pryor Restraint: Life in Concert" (Shout Factory) is a substantial package with all three concert films of the pioneering comedian and seven CDs of live performances, and "Rockshow" (Eagle Vision) delivers the 1980 Paul McCartney and Wings concert film on Blu-ray and DVD.
From Disney comes three Blu-ray+DVD Combo Pack double features, including "Atlantis: The Lost Empire / Milo's Return" (Disney), and on the cult side, James Vanbebber's "The Manson Family" (Severin) debuts on Blu-ray.
The MOD movies wrap this week looks at "Sitting Pretty" (20th Century Fox Cinema Archives), "A Guy Named Joe" (Warner Archive), and other classics making their disc debut.
All of the Cool and Classic here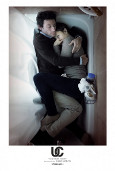 Streams and Channels:
"Upstream Color" (2013), the latest low-budget / big-ideas headtrip from filmmaker Shane Carruth, hits Netflix mere weeks after its disc release. Not so much recommended as simply new is "Tyler Perry's Madea's Witness Protection" (Lionsgate), which pairs Madea (Tyler Perry) up with Eugene Levy. Far less mainstream is "Kaboom" (2010) from queer icon Gregg Araki.
Reaching back a few more years, there's the romantic thriller "The Deep End" (2001) with Tilda Swinton, the heist film "The Score" (2001) with Robert DeNiro and Edward Norton, and "At Close Range" (1986) with Sean Penn and Christopher Walken.
And for instant TV there is the ABC Family Channel series "Pretty Little Liars: Season 3," "Private Practice: Season 6" (which is the final season of the medical series), and "The Glades: Season 3."
HBO's summer documentary series begins this week with "Pussy Riot: A Punk Prayer," a portrait of the art collective tried on charges of religious hatred in Russia. More on the series at Channeling Movies.
Browse more streaming and/or cable offerings here
New On Demand:
"Snitch," starring Dwayne Johnson as a blue collar guy who goes undercover in a drug ring to save his son from prison, and "Hansel and Gretel: Witch Hunters," the revisionist fairy tale as action fantasy with Jeremy Renner and Gemma Arterton, are available same day as disc and VOD.
Available on Friday, June 14, same day as theaters, is "Berberian Sound Studio," an unusual tribute to the art of Italian horror filmmaking starring Toby Jones. Also making the rounds in theaters is "As Cool As I Am," a comedy with Claire Danes and James Marsden.
Arriving before disc is the comedy anthology "Movie 43" with an all-star cast but poor reviews, and the horror film "Twixt" from Francis Ford Coppola.

Available from Redbox this week:
"Snitch" (Summit, Blu-ray and DVD) with Dwayne Johnson and "Hansel and Gretel: Witch Hunters" (Paramount, Blu-ray and DVD) with Jeremy Renner and Gemma Arterton, are available same day as video stores and VOD.
Also arriving in Redbox kiosks this week: "Cloud Atlas" (Warner, Blu-ray and DVD), the sprawling, dazzling, ambitious collaboration between "Matrix" makers Lana and Andy Wachowski and Germany's Tom Tykwer, and "Frankie Go Boom" (Universal, DVD), a comedy about sibling rivalry and practical joking gone awry starring Charlie Hunnam and Chris O'Dowd.