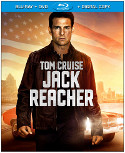 New Releases:
"Jack Reacher" (Paramount), based on the ninth novel in Lee Child's "Jack Reacher" series, brings the action hero to the screen with Tom Cruise in the lead. Fans were resistant – Cruise is not exactly the strapping six-foot-two-inch figure described by Child in the books – but Child gave his approval, director / screenwriter Christopher McQuarrie wrote a sharp adaptation, and Tom Cruise is an actor who commits completely to his films. Blu-ray, DVD, On Demand and at Redbox. Reviewed on Videodrone here.
"Safe Haven" (Fox), this season's Nicholas Sparks adaptation, pairs up Julianne Hough as a mysterious beauty with a dangerous past and Josh Duhamel as a ruggedly handsome widower. MSN has a giveaway for Mother's Day; details on the contest and the prize package here. Blu-ray, DVD, and On Demand.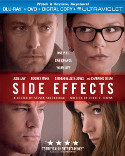 "Side Effects" (Universal), a medical drama-turned-psychol​​ ogical thriller with Jude Law and Rooney Mara, is ostensibly the last feature film from Steven Soderbergh, and it's a pretty sharp piece of filmmaking. Kind of like an updated Joe Esterhaus thriller from the nineties, only smarter and without any ice picks in sight. Blu-ray and DVD
"Mama" (Universal) is "a good old-fashioned horror story" starring Jessica Chastain. Guillermo Del Toro, who knows a thing or two about eerie horror with human dimensions, produces. Blu-ray, DVD, and On Demand.
"Upstream Color" (New Video, Blu-ray+DVD Combo and On Demand), the latest headtrip from filmmaker Shane Carruth, hits disc while still fascinating audiences in theaters. "Starlet" (Music Box, Blu-ray and DVD) is an indie character drama from Sean Baker. "The Rabbi's Cat" (GKids, Blu-ray+DVD Combo Pack) is an animated feature from France and "Citizen Hearst" (HBO, DVD) is a documentary on William Randolph Hearst that received a limited theatrical release.
And don't forget Videodrone's B-sides wrap-up of direct-to-disc and made-for-cable films.
Most releases are also available as digital download and VOD via iTunes, Amazon, and other web retailers and video services.
Browse the complete New Release Rack here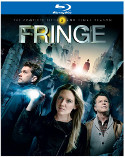 TV on Disc:
"Fringe: The Complete Fifth and Final Season" (Warner) brings closure to the brainy weird science fiction show of parallel universes and dimension-hopping villains with a final chapter set twenty years in the future. It's not the show's best season but it is a memorable wrap to an ambitious show that filled the gap left by "The X-Files" with stories built around trippy concepts. 13 episodes on Blu-ray and DVD. Also arriving is the box set "Fringe: The Complete Series" (Warner, Blu-ray and DVD). Videodrone's review is here.
"30 Rock: Season 7 – The Final Season" (Universal), meanwhile, brings happy endings to Tina Fey's madcap sitcom of life in the halls of network television and insane TV stars. 13 episodes, DVD. Reviewed on Videodrone here.
"Steel Magnolias" (Sony) is the updated TV movie remake of the hit stage play with Queen Latifah, who co-produced the film for Lifetime. "Liberace: The Ultimate Entertainer" (Timeless) is a two-disc set of TV appearances featuring the flamboyant pianist and celebrity entertainer. Both DVD.
Plus: "K9: The Complete Series" (Shout Factory, DVD), the 2009 "Doctor Who" spin-off for the kid set, and the end of the run for two more TV shows: the contemporary medical drama "Private Practice: The Complete Sixth and Final Season" (ABC, DVD) and the classic western "Have Gun-Will Travel: The Final Season" with Richard Boone (Paramount, DVD).
Flip through the TV on Disc Channel Guide here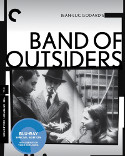 Cool and Classic:
"Band of Outsiders" (Criterion) is one of Jean-Luc Godard's most cinematically playful films, an anti-"Jules And Jim" love triangle crime caper with Anna Karina (Godard's muse of the early sixties) as the innocent sucked into the schemes of best friends Claude Brasseur and Sami Frey. Criterion released it on DVD a decade ago but remasters it from a new 2010 high-definition restoration for its Blu-ray debut. Videodrone's review is here.
"The Great Escape" (Fox), the prison escape classic starring Steve McQueen, James Garner, and Charles Bronson and directed by John Sturges (of "The Magnificent Seven" fame), debuts on Blu-ray for the film's 50th anniversary.
"Superman: Unbound" (Warner) is the latest DC Universe Animated Original Movie, this one based on the graphic novel "Superman: Brainiac." Blu-ray and DVD, with lots of supplements.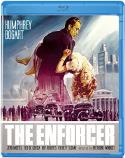 Marlon Brando made his screen debut in "The Men" (Olive) and the superstars of old Hollywood come out in "The Enforcer" (Olive), the 1950 crime thriller with Humphrey Bogart, and "Cloak and Dagger" (Olive), a World War II conspiracy thriller with Gary Cooper. All on Blu-ray and DVD.
"Shanghai Noon / Shanghai Knights" (Touchstone) presents the respective Blu-ray debuts of both Jackie Chan / Owen Wilson old west action comedies in a double feature. And arriving on Blu-ray from Fox is "The Verdict" (Fox) with Paul Newman in one of his great performances, "Brubaker" (Fox) with Robert Redford, and "Viva Zapata" (Fox) with Marlon Brando (the latter previously available exclusively in a box set).
Plus Videodrone's B-sides wrap-up of direct-to-disc and made-for-cable films.
All of the Cool and Classic here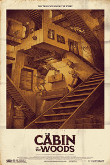 New on Netflix Instant:
"The Cabin in the Woods" (2011) is the wily, witty, very entertaining love letter to horror movie fandom from director Drew Goddard and co-writer / producer Joss Whedon.
"John Dies at the End" (2012), from cult filmmaker Don Coscarelli, sends two college dropouts (Chase Williamson and Rob Mayes) on a drug-induced journey into another dimension where an invasion of Earth may be underway.
Netflix recently got a lot of hate press when some 1800 titles expired last week. But don't panic, there's a big batch of new titles filling in the back catalog, from classics like "The Three Musketeers" (1975) and "Pulp Fiction" (1994) to hits like "Lara Croft: Tomb Raider" (2001) and "Dirty Dancing" (1987) to films waiting to be rediscovered like "Big Night" (1996) with Stanley Tucci and Tony Shalhoub, "Murder by Decree" (1979) with Christopher Plummer as Sherlock Holmes, and "The Man in the Moon" (1991) and the film debut of Reese Witherspoon.
Browse more Instant offerings here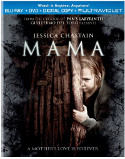 New On Demand:
"Jack Reacher," with Tom Cruise as Lee Child's tough-guy drifter hero, toplines the On Demand offerings this week. Also arriving same day as disc is the Nicholas Sparks romantic drama "Safe Haven" with Julianne Hough and Josh Duhamel, the horror film "Mama" with Jessica Chastain, the headtrip indie drama "Upstream Color" from Shane Carruth, and the suburban satire "The Oranges."
Available before disc release is the mob comedy "Stand Up Guys" with Al Pacino, Christopher Walken, and Alan Arkin, and the documentary "Don't Stop Believin': Everyman's Journey," the portrait of a Journey cover band.
Arriving Friday, May 10, same day as its theatrical debut, is the horror film "Aftershock" with Eli Roth and Selena Gomez. And available before it hits theaters is the action film "Vehicle 19" with Paul Walker.
Available from Redbox this week:
"Jack Reacher" (Paramount) arrives same day as disc and digital on both Blu-ray and DVD. Also arriving in Redbox kiosks this week: "Hyde Park on Hudson" (Universal) starring Bill Murray as Franklin D. Roosevelt, "John Dies at the End" (Magnolia) from cult filmmaker Don Coscarelli, and the spoof "A Haunted House" (Universal).