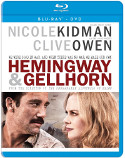 New Releases:
"Hemingway & Gellhorn" (HBO) leads the new releases this week, and this smart and dynamic biopic wasn't even made for theaters. Clive Owen and Nicole Kidman star as Ernest Hemingway and Martha Gellhorne in this HBO original film, directed by Philip Kaufman for cable because films like this about and for adult audiences are a vanishing breed on theaters. Blu-ray and DVD. Videodrone's review is here.
"John Dies at the End" (Magnet), from cult filmmaker Don Coscarelli, sends two college dropouts on a drug-induced journey into another dimension where an invasion on Earth may be underway. It's hard to tell when you're under the influence of the designer drug known as Soy Sauce. Clancy Brown and Paul Giamatti co-star. Blu-ray, DVD, and On Demand.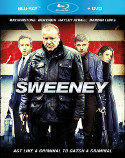 "The Sweeney" (eOne) updates the seventies British cop show for the big screen with Ray Winstone as the bareknuckle leader of an elite crime-fighting squad (Blu-ray and DVD) and the redemptive drama "LUV" (Vivendi) stars Common, Charles S. Dutton, Meagan Good, and Danny Glover (DVD and On Demand).
Foreign films arriving this week include Pablo Trapero's "White Elephant" (Strand, DVD) from Argentina, Takashi Shimizu's "Tormented" from Japan (Well Go, DVD and Blu-ray, includes the 3D version on Blu-ray), and the documentary "Hitler's Children" (Film Movement, DVD).
The B-Sides round-up of direct-to-disc and made-for-cable genre films, including horror, science fiction, and action, spotlights the new DVD line from Fangoria magazine along with dozens of other titles.
Most releases are also available as digital download and VOD via iTunes, Amazon, and other web retailers and video services.
Browse the complete New Release Rack here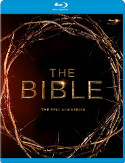 TV on Disc:
"The Bible: The Epic Miniseries" (Fox), from executive producers Mark Burnett and Roman Downey, retells the most familiar stories of The Bible, from Genesis to The Resurrection, in 10 episodes and seven-and-a-half hours. Created for The History Channel, it's an odd and unsatisfying hybrid that blurs the line between history and myth with expensive but overwrought dramatizations and splashy (and often corny) digital effects, and it became the channel's most watched program. Blu-ray and DVD. Videodrone's review is here.
"Dirk Gently" (BBC) adapts the comic mystery novels of Douglas Adams for a screwy British series starring Stephen Mangan as Dirk and Darren Boyd as his "assistant partner" Macduff. Four episodes on two discs on DVD.
"Route 66: The Complete Fourth Season" (Shout Factory) presents the final trips of Tod (Martin Milner) and Linc (Glenn Corbett, who replaced George Maharis) in the original TV road show. 23 episodes on five discs on DVD.
"America Masters: Philip Roth Unmasked" (PBS) profiles the contemporary American author with candid interviews with Roth.
Flip through the TV on Disc Channel Guide here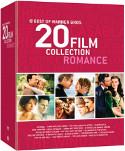 Cool and Classic:
"Best of Warner Bros. 20 Film Collection – Romance" (Warner) continues the 90th Anniversary celebration with a new box set of 20 classic films, from 1938 to 2008 and spanning "Gone With the Wind" and "Casablanca" to "You've Got Mail" and "Night in Rodanthe," on 22 discs. DVD. Reviewed in Videodrone here.
"Hello, Dolly!" (Fox), the splashy 1969 big screen adaptation of the Broadway musical, stars Barbra Streisand as the irrepressible matchmaker who sets her sights on a gloomy, tight-fisted merchant (Walter Matthau). Debuts on Blu-ray.
Also debuting on Blu-ray from Fox: "Panic in the Streets" (Fox), Elia Kazan's unusual film noir thriller built on the search for a criminal infected with a virulent strain of the bubonic plague, and Tom Hanks' "That Thing You Do!" (Fox), presented in both theatrical and extended cuts.
Available exclusives from Screen Archives are two more Blu-ray debuts: Brian De Palma's "The Fury" (Twilight Time) with Kirk Douglas and John Cassavetes and "The Song of Bernadette" (Twilight Time) with Jennifer Jones. Both limited to 3000 copies.
Released last week but featured this week is Robert Bresson's "A Man Escaped" (Criterion), debuting on Blu-ray and DVD. Reviewed on Videodrone here. An overview of Robert Bresson's films on home video and streaming video is here.
All of the Cool and Classic here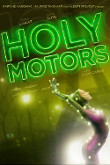 New on Netflix Instant:
"Holy Motors" (2012), a visionary celebration of the imaginative possibilities of cinema from Leos Carax, even higher on my personal Top Ten list. It's a film that almost defies description, a work of fantasy, comedy, music, drama, thrills, and surprising turns with every scene, but mostly there is wonder and invention and the sheer thrill of cinematic creation. Videodrone's review is here.
"Citadel" (2012), winner of the Midnighters Audience Award at SXSW, is an indie horror film from Ireland about an agoraphobic single father fighting his illness and a hooded gang to protect his daughter. Michel Ocelot's "Tales of the Night" (2011), a spirited French film about (appropriately enough) stories and storytelling, in an imaginative animated feature that plays out in the theater of the imagination.
Arriving days after disc release is "Bachelorette" (2012), a comedy starring Kirsten Dunst, Isla Fisher, Rebel Wilson and Lizzy Caplan, the animated feature "Tatsumi" (2011) from Japan, and "The Comedy" (2012), an indie feature with Tim Heidecker.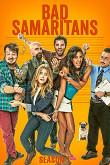 Two new Netflix Originals debut this week. The series "Bad Samaritans," produced by Walt Becker, is a five-episode comedy about set in a group serving mandatory community service probation with David Faustino as their probation officer. "Shotgun Wedding" is a feature comedy set around (what else?) a wedding, and it makes it premiere on Netflix.
Two TV shows arrive on Netflix Instant before disc: "Awake: Season 1," the high-concept cop starring Jason Isaacs, and "The Finder: Season 1," a comic mystery series starring Geoff Stults. Both were cancelled last season and only 13 episodes were produced of each.
A whole bunch of Cartoon Network shows also arrive, from "Robot Chicken: Season 1" and the live-action "Children's Hospital: Seasons 1-2" to "Adventure Time: Season 1,"
"Samurai Jack: Season 1," and a batch of superhero shows.
Browse more Instant offerings here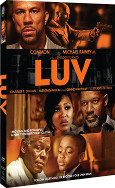 New On Demand:
"LUV," a drama of redemption starring Common and Danny Glover, arrives same day as disc. The natural history documentary "One Life" premieres in advance of disc.
Debuting On Demand on Friday, same day as theaters, is the comedy "The Story of Luke" with Lou Taylor Pucci and Seth Green, and arriving in advance of theatrical release is the action film "Erased" with Aaron Eckhart and Olga Kurylenko and the documentary "Venus and Serena" about the famous tennis stars.
Available from Redbox this week:
Toplining a slow week of new releases at Redbox is the remake of "Red Dawn" (Fox) with Chris Hemsworth and Josh Hutcherson (Blu-ray and DVD) and the martial arts meets steampunk thriller "Tai Chi Zero" (Well Go) from Hong Kong (DVD).
With such a small week of significant titles, they pulled another back out of the library, ostensibly to cash in on the dragons of HBO's "Game of Thrones": "Dragonheart" (Universal), the 1996 medieval fantasy starring Dennis Quaid and Sean Connery as the voice of the dragon.