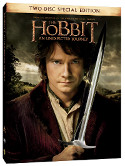 New Releases:
"The Hobbit: An Unexpected Journey" (New Line), the first in Peter Jackson's new film trilogy, transforms J.R.R. Tolkein's novel from a colorful and fairly brisk fantasy adventure into a massive epic full of import and foreshadowing. Which is to say, he retrofits the tale as a prequel to his take on "The Lord of the Rings." It didn't get the same love from the fans as "LOTR," but the lavish production was a worldwide hit nonetheless, and under the spectacle is a marvelous performance by Martin Freeman as Bilbo and superb first meeting with Gollum. Blu-ray, Blu-ray 3D, DVD, and digital and On Demand platforms.Reviewed on Videodrone here.
"Zero Dark Thirty" (Sony), Kathryn Bigelow's drama of the hunt for Osama Bin Laden, has my vote for best American film of the year and the critics at MSN agree: it was the top pick in our Best of 2012 poll. Jessica Chastain stars as the CIA agent who doggedly followed the slimmest of leads and synthesized seemingly unrelated pieces of information into a map that led to Bin Laden. Blu-ray and DVD, on digital and On Demand platforms, and at Redbox. Videodrone's review is here.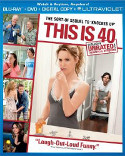 With those two dominating Tuesday, another pair of 2012 films have staked out Friday, March 22 as their release date: the musical "Les Misérables" (Universal), which stars Hugh Jackman, Russell Crowe, and Oscar-winner Anne Hathaway (Blu-ray, DVD, and digital and On Demand platforms) and Judd Apatow's "This Is 40" (Universal) with Paul Rudd, Leslie Mann, and Albert Brooks (Blu-ray, DVD, and digital and On Demand platforms). Enter to win "This is 40" film plus two other Judd Apatow films on Blu-ray.
Foreign films this week include "Rust and Bone" (Sony), a hard-edged romantic drama from France with Marion Cotillard and Matthias Schoenaerts (Blu-ray, DVD, digital and On Demand platforms, and at Redbox) and "The Other Son" (Cohen), a French drama set in Israel about identity across the cultural divide between the Israelis and Palastinians (Blu-ray and DVD). More at the Foreign Affairs round-up.
And documentaries this week include the artist profile "Gottfried Helnwein and the Dreaming Child" (First Run, DVD) and a portrait of the author "Sholem Aleichem: Laughing in the Darkness" (Docurama, DVD).
Most releases are also available as digital download and VOD via iTunes, Amazon, and other web retailers and video services.
Browse the complete New Release Rack here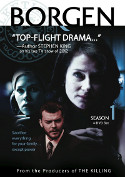 TV on Disc:
"Borgen: Season 1" (MHz), a political drama from Denmark and the creators of the original "The Killing," is a fictional tale of Denmark's first female prime minister trying to navigate the closed-door culture of the old boy's club and a media hungry for controversy. It was a popular and critical hit all over Europe (where it ran for three successful series) and played in the U.S. on the satellite channel Link TV. Danish with English subtitles, 10 episodes on four discs on DVD.
"Jersey Shore Season Six: The Uncensored Final Season" (Paramount) brings an end to MTV's hit reality show that spawned Snooki, Jwoww, and The Situation. 13 episodes plus supplements on four discs, DVD.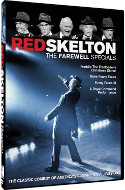 "Red Skelton: The Farewell Specials" (Mill Creek) presents four TV comedy specials starring the great television clown from the 1980s, and "The Return of the Beverly Hillbillies" (MPI) is a 1981 TV-movie reunion with three members of the original cast (Buddy Ebsen, Donna Douglas, and Nancy Kulp). Both DVD.
In the wake Daniel Day-Lewis' third Oscar for Best Actor, his early BBC telefilms are coming to disc. "Daniel Day-Lewis Triple Feature" (BBC) presents three productions from the 1980s: "How Many Miles to Babylon?," "Dangerous Corner," and the Kafka-esque "The Insurance Man." Released separately is "My Brother Jonathan" (BBC), a five-part mini-series from 1985.
Also from Britain comes the 1986 TV production of "Alice in Wonderland" (BBC) and the 1973 "Alice Through the Looking Glass" (BBC) and the complete run of "A Mind to Kill" (Acorn).
Flip through the TV on Disc Channel Guide here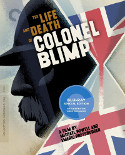 Cool and Classic:
"The Life and Death of Colonel Blimp" (Criterion), an unconventional wartime drama from The Archers (director Michael Powell and screenwriter Emeric Pressburger), was made against the wishes of the British government and went on to become one of the most beloved British films of all time. It is also one of Martin Scorsese's favorite movies and in 2011 the Film Foundation (co-founded buy Scorsese) helped fund a new 4K digital restoration, which is the source of this new DVD edition and Blu-ray debut from Criterion. Videodrone's review is here.
"Badlands" (Criterion), Terrence Malick's assured debut feature, draws on the true story of spree killer Charlie Starkweather and his 14 year old girlfriend, played by Martin Sheen and Sissy Spacek in this take. The new DVD and Blu-ray debut is newly restored and remastered and features numerous supplements.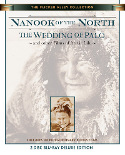 The full title of the newly remastered "Nanook of the North" (Flicker Alley) is "Nanook of the North / The Wedding of Paolo and other films of Arctic Life" and it presents two feature, six short films, and a booklet with essays on the two features and notes on the shorts.
Also new this week: the Blu-ray debuts of "On Approval" (Inception), with Clive Brook and Beatrice Lilly, and "Timerider" (Shout Factory), a motorcycle western with Fred Ward.
And the MOD Movies roundup profiles the forgotten populist depression-era drama "Heaven With a Barbed Wire Fence" (20th Century Fox Cinema Archives), the feature debut of Glenn Ford. Reviewed on Videodrone here.
All of the Cool and Classic here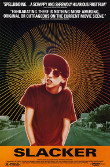 New on Netflix Instant:
Richard Linklater made his feature debut with the devilishly clever and endlessly inventive "Slacker" (1991), a comic kaleidoscopic portrait of the quirky characters stuck in a college town, and Whit Stillman made his confident and witty feature debut with "Metropolitan" (1990), a low-key indie comic drama about a group upwardly-mobile, twentysomething college students in New York City's debutante society.
Jim Jarmusch directs "The Limits of Control" (2009) in his distinctive idiosyncratic manner. Clare Danes and Vanessa Redgrave star in "Evening" (2007), the second feature from Hungarian-born director Lajos Koltai. "LOL" (2012), starring Miley Cyrus as a teenage girl in the social media era, disappeared from theaters almost as quickly as it arrived.
TV shows include "Weeds: Season 8" (2012), Showtime's dope comedy starring Mary-Louise Parker, and "The Killing: Season 2" (2012), AMC's adaptation of the dark Danish murder mystery series (arriving in advance of disc).
And a small library of silent classics recently arrived from the Kino Lorber collection, including Buster Keaton's comedy classics "The General" (1926) and "Sherlock Jr." (1924) and Douglas Fairbanks swashbuckler "The Mark of Zorro" (1920).
Browse more Instant offerings here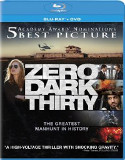 New On Demand:
The blockbuster fantasy "The Hobbit: An Unexpected Journey," the first film in Peter Jackson's new Tolkein trilogy, is available on standard and 3D versions. Less fantastical but more compelling is Kathryn Bigelow's riveting real-life thriller "Zero Dark Thirty," about the hunt for Osama Bin Laden, and from France comes "Rust and Bone" with Marion Cotillard.
Available on Friday, March 22 is the sweeping musical drama "Les Miserables" and Judd Apatow's "This Is 40" (in R and unrated versions).
The horror film "The Collection" arrives On Demand before disc.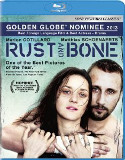 Available from Redbox this week:
Arriving day and date with video stores is Kathryn Bigelow's riveting real-life thriller "Zero Dark Thirty" (Sony, Blu-ray and DVD) and the French drama "Rust and Bone" (Sony, DVD) with Marion Cotillard.
Also arriving in Redbox kiosks this week is 2012 Best Picture winner "Argo" (Warner), directed by and starring Ben Affleck, plus "Anna Karenina" (Universal) with Keira Knightly and Jude Law, "Atlas Shrugged: Part 2" (Fox), and "The Factory" (Warner).