New Releases:
"Skyfall" (MGM), the 23rd official Bond movie, arrives on Blu-ray and DVD just days after taking home BAFTA awards (the British equivalent of the Oscar) for Best British Picture and Best Score. That's pretty much the final garland in the crown of the film many are calling the best Bond ever. I'm not part of that chorus, but I understand the praise. It's a terrific Bond by any measure, smart and sinewy, filled with memorable action and inventive set pieces, and a significant improvement over the previous film. Blu-ray, DVD, and On Demand. Videodrone's review is here.
"The Sessions" (Fox), a sincere and witty comic drama about romance, sex, and intimacy, stars John Hawkes as a poet with cerebral palsy and earned an Oscar nomination for Helen Hunt as a sex surrogate. Blu-ray, DVD, and On Demand
Also on the smaller, more personal side are "Robot and Frank" (Sony), starring Frank Langella as a retired thief who goes back into business with a new robot protégé (DVD, On Demand, and at Redbox), and the coming-of-age drama "The Perks of Being a Wallflower" (Summit), adapted by Stephen Chbosky from his own novel and starring Logan Lerman and Emma Watson (Blu-ray, DVD, On Demand, and at Redbox).
Hip-hip star RZA directs and stars in "The Man with the Iron Fists" (Universal), a martial arts movie with Russell Crowe and Lucy Liu (Blu-ray, DVD, and On Demand), and "Silent Hill: Revelation" (Universal) is the second film based on the video game (Blu-ray, DVD, and On Demand).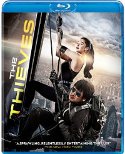 "The Thieves" (Well Go), the top-grossing films of all-time in Korea, is an "Ocean's Korea" heist movie where half the crew is out to rip off the other half, and the other half is just out for themselves. Blu-ray and DVD. Also arriving from foreign screens is the Belgian drama "The Kid With a Bike" (Criterion, Blu-ray and DVD) from the Dardenne Brothers, and "Teddy Bear" (Film Movement, DVD) from Danish director Mads Matthiesen. These and more reviewed at Foreign Affairs round-up.
"Bully" (Anchor Bay) , the acclaimed documentary about bullying in America arrives on Blu-ray, DVD, On Demand, and at Redbox. Other non-fiction this week: "Girl Model" (First Run, DVD) and Ross McElwee's "Photographic Memory" (First Run, DVD).
Browse the complete New Release Rack here

TV on Disc:
"Weeds: Season Eight" (Lionsgate), Showtime's comedy starring Mary-Louise Parker as a dope-dealing single mom with a dysfunctional life, ends its run by coming full circle to where it all began: the little boxes of suburbia. I tired of the series a while ago, but if you like its mix of whimsical crime antics with death threats and murder (all played with a gallows humor), this season won't disappoint. 13 episodes (12 if you count the two-part, hour-long finale as one episode) on DVD and Blu-ray, plus supplements. Videodrone's review is here.
"Gossip Girl: The Complete Sixth and Final Season" (Warner) of the nighttime soap opera of the flamboyant lives and social antics of the young and rich of New York's Upper East Side, arrives on DVD along with the box set "Gossip Girl: The Complete Series" (Warner).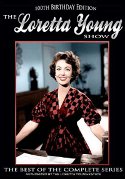 "Nurse Jackie: Season Four" (Lionsgate) gives pill-popping emergency room nurse Jackie Peyton (Edie Falco) two new challenges: sobriety and a new hospital administrator (Bobby Cannavale). Blu-ray and DVD.
"The Loretta Young Show: Best of the Complete Series" (Timeless) collects 145 episodes of the anthology series of the 1950s (more than half of the show's run and most of the episodes starring Loretta Young) in a box set of 17 discs. DVD.
"Attenborough's Life Stories" (BBC) the three-part series with naturalist Sir David Attenborough reflecting on the changes he's witnessed in his lifetime.
Flip through the TV on Disc Channel Guide here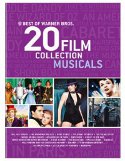 Cool and Classic:
"Best of Warner Bros. 20 Film Collection: Musicals" (Warner) continues the celebration of Warner Bros. 90th anniversary with another box set, this one collecting 20 landmark musicals from 1928 to 1988, from the original "The Jazz Singer" to John Waters' "Hairspray," with such classics as "The Wizard of Oz," "Singin' In the Rain," the 1954 "A Star is Born," and "Cabaret" in between. DVD. Videodrone's review is here.
"The Late Mathias Pascal" (Flicker Alley), directed by Marcel L'Herbier from a Luigi Pirandello novel, is a fabulist epic from 1926 France starring Ivan Mosjoukine, one of the great French actors of the silent era, as a dreamer who bounces from a devastating tragedy to a new life as a rich man after he's (incorrectly) pronounced dead. Blu-ray.Reviewed on Videodrone here.
"Sleepy Eyes of Death Collector's Set Volume 3" (AnimEigo) presents the final four films of the 12-film series (known as "Son of the Black Mass" in Japan) starring Raizo Ichikawa is the deadly wandering sword-for-hire Nemura Kyoshi. DVD.
All of the Cool and Classic here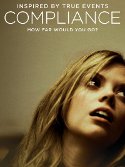 New on Netflix Instant:
"Compliance," the button-pushing, "based on a true story" drama starring Ann Dowd as a fast food manager manipulated into abusive behavior, stirred aggressive reactions in both festival screenings and theatrical showing.
Also recently on disc and debuting in Netflix: the romantic horror "Jack & Diane" with Juno Temple and Riley Keough , the gruesome murder mystery "The Raven" with John Cusack as Edgar Allen Poe, and the indie drama "Bringing Up Bobby" with Milla Jovovich.
"United 93" (2006), the first theatrical feature to deal with the events of September 11, pays tribute to the passengers aboard United 93, the lone flight that never reached its objective, with a respectful dignity.
New action films include "The Hunted" (2003), William Friedkin's lean, mean manhunt thriller with Benicio Del Toro and Tommy Lee Jones, "Bad Boys" (1995) with Will Smith and Martin Lawrence, and "Once Upon a Time in Mexico" (2003) with Antonio Banderas and Johnny Depp.
Plus Julia Sweeney's one woman show "God Said, Ha!" (1999); the sweet, low key romantic comedy "Next Stop Wonderland" (1998), slapstick martial arts sports comedy "Shaolin Soccer" (2001) from Hong Kong, and the Oscar-nominated Spanish drama "The Sea Inside" (2004) with Javier Bardem.
Browse more Instant offerings here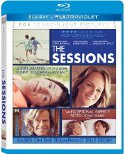 New On Demand:
"Skyfall," the latest James Bond movie with Daniel Craig returning to duty, arrives along with the comedy "Robot & Frank" with Frank Langella, the low-key drama "The Sessions" with John Hawkes and Oscar-nominee Helen Hunt, and the coming-of-age drama "The Perks of Being a Wallflower."
Plus martial arts movie "The Man With the Iron Fists" (unrated version), video-game horror "Silent Hill: Revelation," and the acclaimed documentary "Bully."
Debuting before theatrical release is the drama "Love and Honor" with Liam Hemsworth and Theresa Palmer.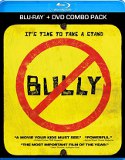 Available from Redbox this week:
Day and date with video stores is "Robot and Frank" (Sony) with Frank Langella (DVD), the coming-age-drama drama "The Perks of Being a Wallflower" (Summit, Blu-ray and DVD) and the documentary "Bully" (Anchor Bay, Blu-ray and DVD).
Also arriving in Redbox kiosks this week: "Taken 2" (Fox) with Liam Neeson and Maggie Grace (Blu-ray and DVD) and "Won't Back Down" (Fox) with Maggie Gyllenhaal and Viola Davis (DVD), and returning to Redbox is the Oscar-winning animated film "Rango" (Paramount, Blu-ray and DVD).