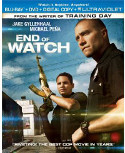 New Releases:
"End of Watch" (Universal), from writer / director David Ayer, adopts a found-footage / surveillance camera aesthetic for the story of two patrol officers and best friends (Jake Gyllenhaal and Michael Peña) on the mean streets of modern day Los Angeles. The crime drama takes some unexpected turns but the heart of the story is the byplay between these partners and buddies who have one another's backs on and off the job. Blu-ray, DVD, On Demand, and available at Redbox. Videodrone's review and an interview with the director are here.
"The Paperboy" (Millennium), Lee Daniels' overheated crime thriller follow-up to "Precious," is a swamp noir that courts an aggressively disreputable atmosphere of sordid sexuality and hothouse obsession, thanks in large part to a fearlessly trashy performance by Nicole Kidman. Zac Efron, Matthew McConaughey, and John Cusack co-star. Blu-ray, DVD, and On Demand. Reviewed on Videodrone here.
"Fat Kid Rules the World" (Arc), the directorial debut of Matthew Lillard, adapts the young adult novel about a misfit kid who finds an identity when he forms a punk band. Roger Ebert calls it "smart and observant." DVD.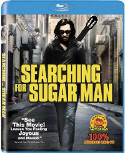 "For a Good Time, Call" (Universal) is a female buddy comedy starring Ari Graynor and Lauren Anne Miller as opposites who find common cause in a sex-phone business and "Keep the Lights On" (Music Box), from director Ira Sachs, is a drama of friends and lovers struggling through a relationship troubled by addiction. Both Blu-ray and DVD.
The Oscar-nominated documentary "Searching For Sugar Man" (Sony), the stranger-than-fictio​​ n story of a forgotten folk singer (Blu-ray, DVD, On Demand, available at Redbox), headlines the non-fiction releases. The list also includes Wim Wenders' dance documentary "Pina" (Criterion) (Blu-ray, Blu-ray 3D, and DVD) and the acclaimed "The Imposter" (Vivendi) (DVD). All reviewed here.
And Miike Takashi's "Hara-kiri: Death of a Samurai" (New Video), a remake of the classic samurai drama (Blu-ray and DVD), and the martial arts film "Tai Chi Zero" (Well Go) (Blu-ray and DVD), topline the foreign releases.
Browse the complete New Release Rack here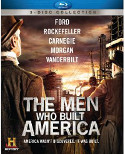 TV on Disc:
"The Men Who Built America" (History), the eight-part miniseries about the industrialists and moguls who developed the modern industrial nation between the Civil War and World War I, is a documentary as melodrama: a look at the original robber barons building their empires as real-life J.R. Ewings more interested in crushing their opponents than building a vision. Blu-ray and DVD. Videodrone's review is here.
"Twenty Twelve" (BBC) takes the mockumentary format of "The Office" for a comic look at the team charged with making the Olympics happen in London in 2012. Hugh Bonneville of "Downton Abbey" heads the cast and David Tennant narrates. DVD.
Also new this week: the documentary "The American Experience: The Abolitionists" (PBS) and the comic adventure series "Scarecrow and Mrs. King: The Fourth and Final Season" (Warner) with Kate Jackson and Bruce Boxleitner, both DVD only.
"Breaking In: The Complete Series" (Sony Pictures Choice Collection), the short-lived sitcom with Christian Slater and Megan Mullally, and the 1970s TV movies "The Boy and the Plastic Bubble" (Sony Pictures Choice Collection) and "Wonder Woman" (Warner Archive) are among the TV shows recently featured in the latest MOD TV round-up.
Flip through the TV on Disc Channel Guide here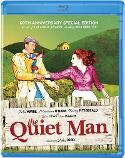 Cool and Classic:
"The Quiet Man: 60th Anniversary" (Olive) presents an all-new edition of one of John Ford's most beloved films, a sweet and sentimental drama with a rough-and-tumble humor, an earthy beauty, and a powerhouse pairing of John Wayne and Maureen O'Hara romancing one another in a shamrock green Irish village full of blarney and charm. It's been remastered from the original camera negative and looks absolutely gorgeous. Blu-ray and DVD. Videodrone's review is here.
"The Seven-Per-Cent Solution" (Shout! Factory), based on a novel by Nicholas Meyer, imagines the meeting between Sherlock Holmes (Nicol Williamson) and Sigmund Freud (Alan Arkin), and of course sends them on a mystery. Blu-ray+DVD Combo pack.
"Indiscreet" (Olive), directed by Stanley Donen, reunites Cary Grant and Ingrid Bergman in a continental romantic comedy. Blu-ray and DVD.
"Deadly Blessing: Collector's Edition" (Shout! Factory) is the disc debut of the Wes Craven horror on both Blu-ray and DVD, with commentary and interviews.
Also new: Hal Hartley's "Trust" (Olive), the Stephen King horror "Cujo" (Olive), the seventies sex comedy "The Sex Thief" (Kino), and three early John Wayne westerns, all Blu-ray and DVD.
All of the Cool and Classic here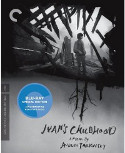 Blu-ray Debuts:
"Ivan's Childhood" (Criterion), the debut feature by Andrei Tarkovsky, views the Russian front of World War II through the eyes of a boy who serves as a scout for the Russian soldiers. Also known as "My Name is Ivan," the 1962 film debuts on Blu-ray in an edition featuring bonus interviews.
"Hannah and Her Sisters" (MGM), one of Woody Allen's most popular films, arrives along with the sci-fi spoof "Sleeper" (MGM), one of his "earlier, funnier ones."
Peruse all the new Blu-rays here
New on Netflix Instant:
"The Switch" (2010), starring Jennifer Aniston as a single woman who decides to have a child via artificial insemination and Jason Bateman is her neurotic best friend who switches the selected donor sperm with his own, is "a better-than-you-fear​​ed example of the recent comedies revolving around reproduction," according to MSN film critic James Rocchi.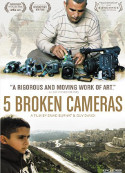 "5 Broken Cameras" (2012), a documentary on life in the West Bank, is a 2013 Oscar nominee and an award-winner at Sundance 2012.
From France comes "Unforgiveable" (2011), André Téchiné's romantic thriller with André Dussolier and Carole Bouquet, and "17 Girls" (2011), which relocates a real-life American story to a small French town.
"Lars and the Real Girl" (2007) stars Ryan Gosling as a shy child-man in a tale with a good heart, and Shane Carruth's "Primer" (2004) is one of the most inventive time travel movies ever concocted.
Browse more Instant offerings here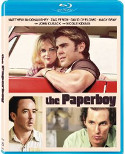 New On Demand:
Rough and ready L.A. cop drama "End of Watch" with Jake Gyllenhaal and Michael Peña and hothouse swamp noir "The Paperboy" with Zac Efron, Matthew McConaughey, and Nicole Kidman.
Three documentaries also debut: the 2012 Oscar winner "Undefeated" (a month before disc), 2013 Oscar nominee "Searching for Sugar Man," and the acclaimed "The Imposter."
Arriving before theaters is "The End of Love," a drama written and directed by Mark Webber and starring Webber, Shannyn Sossamon, and Michael Cera, and the comedy "Supporting Characters" with Alex Karpovsky and Tarik Lowe.
Available from Redbox this week:
Day and date with video stores: the hothouse swamp noir "The Paperboy" (Millennium) with Nicole Kidman and Zac Efron, and Oscar-nominated music documentary "Searching For Sugar Man" (Sony).
Also arriving in Redbox kiosks this week is "Paranormal Activity 3" (Paramount), a week before the fourth installment arrives on home video.