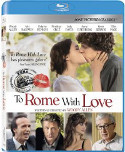 New Releases:
"To Rome With Love" (Sony) takes Woody Allen's continental road show to Italy for a quartet of stories – really, more like extended skits – with an international cast, from Alec Baldwin and Jesse Eisenberg and Greta Gerwig and Ellen Page to Roberto Benigni and Penelope Cruz. Allen is refreshed with his sojourn in Europe and it doesn't hurt to have the beauty of the Rome as the gorgeous backdrop to his comic romances and dizzy farce. Blu-ray, DVD, On Demand, and at Redbox. Videodrone's review is here.
"Taken 2" (Fox) finds retired CIA agent Liam Neeson facing the blowback from his actions in the first "Taken" as his ex-wife (Famke Janssen) and daughter (Maggie Grace) are targeted on a vacation in Istanbul. Blu-ray, DVD, and On Demand.
"Won't Back Down" (Fox) stars Maggie Gyllenhaal, Viola Davis, and Rosie Perez as concerned parents who take on the failing school system. Blu-ray, DVD, and On Demand

Jeffrey Dean Morgan and Kyra Sedgewick star in "The Possession" (Lionsgate), a horror film built on a Jewish legend (Blu-ray, DVD, and On Demand, available at Redbox), and "Branded" (Lionsgate) is a sci-fi thriller about corporate mind control starring Ed Stoppard, Leelee Sobieski, and Jeffrey Tambor (Blu-ray and DVD, available at Redbox).
Foreign films arriving this week include "Farewell, My Queen" (Cohen) with Léa Seydoux and Diane Kruger (Blu-ray, DVD, and On Demand) and "17 Girls" (Strand) (DVD), both from France.
And documentaries this week include Oscar nominee "5 Broken Cameras" (Kino Lorber) (DVD), "The Other Dream Team" (Lionsgate) (DVD), and "Detropia" (Docurama) (DVD and On Demand).
Browse the complete New Release Rack here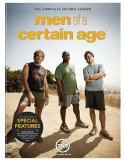 TV on Disc:
"Men of a Certain Age: The Complete Second Season" (Warner), starring Ray Romano, Scott Bakula and Andre Braugher as college buddies facing fifty with the realization that they aren't where they want to be, was a light drama with a low-key charm and easy chemistry. The TNT original series had a small but strong following. 12 episodes on three discs on DVD. Videodrone's review is here.
"Life's Too Short: The Complete First Season" (HBO), created by Ricky Gervais and Stephen Merchant, reworks their mockumentary format to spoof the career of Warwick Davis, star of "Willow" now on hard times, or so this seven-episode series claims. DVD. Reviewed on Videodrone here.
"The Jackson 5ive: The Complete Animated Series" (DreamWorks Classics) is quite the nostalgia release: all 23 episodes of the 1971 -1972 Saturday morning cartoon series produced by Rankin/Bass, with 46 songs. Blu-ray+DVD combo pack. Reviewed on Videodrone here.
Plus 15 episodes of "Perry Mason: Season 8, Volume 2" (Paramount) and new seasons of the British shows "Being Human: Season Four" (BBC), "Merlin: The Complete Fourth Season" (BBC), and "Waking the Dead: Season Seven" (BBC), all on DVD.
Flip through the TV on Disc Channel Guide here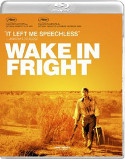 Cool and Classic:
"Wake in Fright" (Image), a brutal, blackly funny thriller of an urban schoolteacher (Gary Bond) in the sun-blasted Australian Outback where his veneer of culture crumbles when he gets stranded in the grimy mining town of Bundanyabba, where he unravels in non-stop drink and kangaroo hunts. This 1971 film was thought lost for years but was recently rediscovered, restored, and re-released. Drafthouse Films presents the American release. Blu-ray and DVD, with commentary, featurettes, and other supplements. Videodrone's review is here.
The original "The Man Who Knew Too Much" (Criterion), Alfred Hitchcock's first international thriller of innocents caught up in the intrigue of spies and killers, set the template for the romantic thrillers that made his name. Previously available in substandard versions, it's been remastered by Criterion for a special edition on Blu-ray and DVD. Reviewed on Videodrone here.
"The Tin Drum" (Criterion), Volker Schlondorff's 1979 adaptation of Gunter Grass' acclaimed novel, was cut on its American release. Criterion releases a special edition of the director's cut, which was restored in 2010, with new and archival supplements on Blu-ray and DVD.
"King: A Filmed Record… Montgomery to Memphis" (Kino) presents the complete 1970 documentary, restored to its original three-hour running time. Two discs on DVD.
The weekly MOD movies report looks at a collection of movies previously available in box sets only, now in a la carte editions.
All of the Cool and Classic here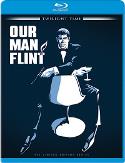 Blu-ray Debuts:
"Our Man Flint" (Twilight Time), starring James Coburn as secret agent Derek Flint, was one of the many spy movie spoofs that followed in the success of the James Bond films, and one of the best. This is the rare Twilight Time release packed with supplements, including commentary and featurettes, in addition to their trademark isolated musical score.
"Experiment in Terror" (Twilight Time) is a lean, taut thriller from Black Edwards, starring Glenn Ford as an FBI matching wits with a brilliant kidnapper with a penchant for playing games.
"Jackie Chan Double Feature: Crime Story / The Protector" (Shout Factory) presents one of Jackie's rare dramatic action films, the sober cop thriller "Crime Story" (1993), along with an older American co-production, on a single disc.
Peruse all the new Blu-rays here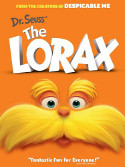 New on Netflix Instant:
"The Lorax" (2012), the animated feature based on the fable-like storybook by Dr. Seuss, is the big New Release of the week, but there are more interesting films.
"Mon-Rak Transistor" (2001), an offbeat and colorful film from Thailand's Pen-ek Ratanaruang, is a cautionary comic tragedy of show-biz dreams with old-fashioned musical numbers and unexpected diversions. And it is not available on disc.
"My Sucky Teen Romance" (2011) is a high school horror comedy from a 17-year-old writer/director. Walter Hill's "The Warriors" (1979) comes out to play with funky comic book energy and Michael J. Fox stars in Peter Jackson's Hollywood debut "The Frighteners" (1996).
The Instant TV highlight is "Being Human: Season Two," the most recent season of the American incarnation of the TV series about supernatural roommates trying to live human lives.
Plus: the all-star disaster movie "Earthquake" (1974), the spy movie spoof "In Like Flint" (1967), and the fast, funny, and foul minor league sports comedy "Slap Shot" (1977).
Browse more Instant offerings here

New On Demand:
Woody Allen's "To Rome With Love" starring Alec Baldwin, Ellen Page, Penelope Cruz, and Rome, the action thriller "Taken 2" with Liam Neeson and Maggie Grace, the horror film "The Possession" with Jeffrey Dean Morgan and Kyra Sedgwick, and "Won't Back Down" with Maggie Gyllenhaal and Viola Davis.
Also new: "Farewell, My Queen" from France and the documentary "Detropia."
Available months in advance of disc is the award-winning documentary "The House I Live In" from Eugene Jarecki.
Available from Redbox this week:
Day and date with video stores: Woody Allen's "To Rome With Love" (Sony) and the horror film "The Possession" (Lionsgate), both on Blu-ray and DVD, and the science fiction thriller "Branded" (Lionsgate) on DVD only.
Also arriving in Redbox kiosks this week: Tim Burton's Oscar-nominated animated feature "Frankenweenie" (Disney), the college musical "Pitch Perfect" (Universal), family comedy "Diary of a Wimpy Kid: Dog Days" (Fox), and the TV mini-series "Hatfields & McCoys" (Sony) with Kevin Costner and Bill Paxton.