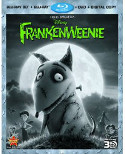 New Releases:
"Frankenweenie" (Disney), Tim Burton's adolescent twist on the classic story, sends a schoolboy Victor Frankenstein into his attic lab to bring his beloved pet dog back to life. Burton mixes in a love of horror movies with an innocently ghoulish sense of humor and harmless gross-out gags, capturing that childhood fascination with monster movies and the macabre in a story full of heart and soul and a film alive with stop-motion magic. Blu-ray, Blu-ray 3D, DVD, and On Demand. Videodrone's review is here.
"Dredd" (Lionsgate), the second screen version of the satirical British comic book of merciless lawmen in a violent future, is a brutal, blood-spattered action film of a dystopian future where life is cheap and cops are also judge, jury, and executioner – and they're the good guys. Karl Urban, Olivia Thirlby, and Lena Headey star. Blu-ray, Blu-ray 3D, DVD, On Demand and at Redbox. Reviewed on Videodrone here.
"Compliance" (Magnolia), the button-pushing, "based on a true story" drama starring Ann Dowd as a fast food manager manipulated into abusive behavior, stirred aggressive reactions in both festival screenings and theatrical showing. Blu-ray, DVD, and On Demand.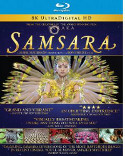 "Samsara" (MPI) – Ron Fricke's five-years-in-the-ma​​ king visual essay, shot across the globe on 70mm film, contrasts the impersonal technology and culture of modern society with the serenity and spiritualism of rural life and Eastern religion. Blu-ray, DVD, and On Demand.
"The White Meadows" (Global Lens), from Iran, is a visually striking yet startlingly bleak odyssey through a metaphorical Iran of medieval practices and brutal oppression. Farsi with English subtitles. DVD only. Videodrone's review is here.
Also new this week: the horror film "House at the End of the Street" (Fox) with Jennifer Lawrence and the action comedy "Hit and Run" (Universal) with Kristen Bell and Dax Shepard (both Blu-ray, DVD, and On Demand), and the indie romantic drama "Jack and Diane" (Magnolia) with Juno Temple (Blu-ray and DVD).
Other foreign arrivals this week include the Spanish thriller "Sleep Tight" (Dark Sky) from Jaume Balaguero (Blu-ray and DVD) and the Finnish comedy "Lapland Odyssey" (Artsploitation) (DVD only).
Browse the complete New Release Rack here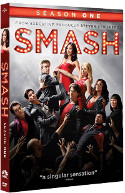 TV on Disc:
"Smash: Season One" (Universal), a drama set around the creation of a (wholly fictional) Broadway production of a musical about the life of Marilyn Monroe, gets high marks for convincingly ready-for-the-big-ti​​ me original showtunes (thanks to the songwriting team of movie, TV, and Broadway veterans Marc Shaiman and Scott Wittman) and a cast filled with stage-seasoned performers along with the TV vets. The rest of the show warbles between contrived backstage drama and soap opera silliness. 15 episodes on four discs on DVD. Videodrone's review is here.
In "Anger Management: Season One" (Lionsgate), Charlie Sheen's sitcom comeback, he plays an anger management counselor, sort of a Bob Newhart reconceived as a horny single dad still trying to keep the rage-aholic under control. It's a perfectly familiar sitcom format made for FX, but Sheen is in his element. 10 episodes, Blu-ray and DVD. Reviewed on Videodrone here.
There's more debut seasons rolling out this week, from HBO's acclaimed "Enlightened: The Complete First Season" (HBO) with Laura Dern to the cable reboot of the iconic nighttime soap "Dallas: The Complete First Season" (Warner) with Larry Hagman to the Showtime sitcom "Episodes: The Complete First and Second Seasons" with Matt LeBlanc.
"Game Change" (HBO), the HBO original movie about the stranger-than-fictio​​ n drama of the Sarah Palin circus of the 2008 election, won five Emmy Awards, including Outstanding Actress for Julianne Moore's amazing incarnation of Palin, Outstanding Miniseries or Movie, and awards for direction and writing. Blu-ray and DVD. Less acclaimed is "Seal Team Six: The Raid on Osama Bin Laden" (Anchor Bay), which debuted on the National Geographic Channel. Blu-ray and DVD.
"The Hour: Season Two" (BBC) ups the ante of the superb British series about a BBC news hour in the 1950s with a government conspiracy and a new team member and "Archer: The Complete Third Season" (Fox) continues the adventures of Sterling Archer (code name: Duchess) in the FX animated cult hit. Both on DVD and Blu-ray.
Flip through the TV on Disc Channel Guide here
Cool and Classic:
Four classic movies by John Brahm, including "Let Us Live" (Sony Pictures Choice Collection) with Maureen O'Sullivan and Henry Fonday, and the film noirs "The Locket" (Warner Archive) and "The Brasher Doubloon" (20th Century Fox Cinema Archives), are now available thanks to manufacture-on-deman​​d discs. Videodrone's review is here.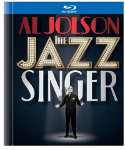 Blu-ray Debuts:
"The Jazz Singer" (Warner), a hybrid silent film with synchronized sound sequences, is the film that turned sound film from a gimmick to the industry standard. It's absurdly maudlin, a creaky story of modern American son (Al Jolson) with "jazz music" in his soul banished from home by his old-world Cantor father (Warner Oland), but Jolson is marvelous and his impromptu dialogue in two scenes was as thrilling to audience as his musical numbers. The 3-Disc Blu-ray debut is filled with supplements, including commentary, documentaries, and archival sound shorts. Videodrone's review is here.
"Two-Lane Blacktop" (Criterion), the great American existential road movie, ostensibly follows a cross-country contest between a pair of street-racers (James Taylor and Dennis Wilson) and a middle-aged drifter (Warren Oates) in a GTO, but the roads they follows go everywhere and lead nowhere and they can't work up enough speed to escape themselves. Reviewed on Videodrone here.
Two classic Oscar winners: "Grand Hotel" (Warner), Best Picture of 1932, is a star-studded production with Greta Garbo, John Barrymore, Joan Crawford, Lionel Barrymore, Wallace Beery, Lewis Stone, and Jean Hersholt, and "Mrs. Miniver" (Warner), a rousing wartime drama of life in rural England during Hitler's siege, won six Academy Awards, including Best Picture, Best Director (William Wyler), and Best Actress (Greer Garson).
Peruse all the new Blu-rays here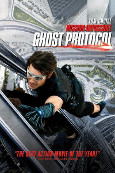 New on Netflix Instant:
"Mission: Impossible – Ghost Protocol" (2011), the fourth in the big screen series with Tom Cruise as agent Ethan Hunt and the first live-action film from animation auteur Brad Bird, is brisk, spirited, clever, and more fun than it ought to be. Videodrone's review is here.
"Blue Valentine" (2010) stars Michelle Williams in an Oscar-nominated performance opposite an equally intense and committed Ryan Gosling as young marrieds in an unraveling relationship. Reviewed on Videodrone here.
Aaron Johnson plays the young John Lennon in "Nowhere Boy" (2009) and Ben Affleck, Chris Cooper and Tommy Lee Jones are "The Company Men" (2010) in the drama of life in the recession.
Family friendly drama includes "October Sky" (1999) and "Searching for Bobby Fischer" (1993), a pair of intelligent and inspiring dramas about smart kids who continue to challenge themselves.
And new Instant TV offerings include the 2012 cable mini-series "World Without End," the 1998 science fiction miniseries "Invasion: Earth," and the brilliant comedy "Fawlty Towers," created by and starring John Cleese.
Browse more Instant offerings here

New On Demand:
Tim Burton's animated family comedy "Frankenweenie" and the brutal action film "Dredd" are both available in 3D as well as standard editions.
Also arriving same day as disc: the horror film "House at the End of the Street" (Fox) with Jennifer Lawrence, the action comedy "Hit and Run" (Universal) with Kristen Bell and Dax Shepard, the controversial indie drama "Compliance," and the visual essay "Samsara."
Debuting On Demand in advance of theater is the comedy "Charles Swan" with Charlie Sheen and Bill Murray, and same day as theaters (on January 11) is the documentary "Sellebrity" with Jennifer Aniston and Jennifer Lopez.
Available from Redbox this week:
Arriving day and date with video stores is "Dredd" (Lionsgate), on Blu-ray and DVD, the indie drama "Now is Good" (Sony), and the British comedy "The In-Betweeners Movie" (Lionsgate).
Also arriving in Redbox kiosks this week: the animated feature "Ice Age: Continental Drift" (Fox), the talking teddy bear comedy "Ted" (Universal), and the Bourne sequel "The Bourne Legacy" (Universal) with Jeremy Renner.