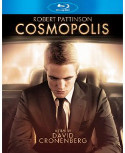 New Releases:
"Cosmopolis" (eOne), David Cronenberg's vivid adaptation of Don Delillo's massive novel, distils the tome down to a two-hour odyssey through a long day drive in a space shuttle of a limousine creeping through the gridlock of an anonymous New York City. Robert Pattinson, perfectly disaffected in a mix of boredom and anxiety, plays financial kingpin Eric Packer, whose grand market gamble is the beginning of his self-destruction, and Juliette Binoche, Samantha Morton, Jay Baruchel, Mathieu Amalric, and Paul Giamatti co-star. It's a savage satire of modern life under a cool surface of steel and glass and electronic screens, a bubble from which we watch the world disintegrate outside, and one of the best and most challenging films of 2012. Blu-ray, DVD, and On Demand. Videodrone's review is here.
"Looper" (Sony) is the smartest science fiction thriller of 2012. On the surface a clever collision of killer-for-hire action and time-travel conundrum, Rian Johnson's juiced-up genre blast ostensibly pits a callow young executioner (Joseph Gordon-Levitt) against his future self (Bruce Willis), come back in time to change his future. Johnson's creative approach to a familiar genre elements, however, is simply our entry into a superb character drama, with Gordon-Levitt doing a brilliant Willis and Willis as a dead man walking who remains just as self-involved decades on. Emily Blunt provides fierce support, as usual. Blu-ray, DVD, and On Demand. Reviewed on Videodrone here.
Also new this week: the indie comedy "The Trouble with Bliss" (Anchor Bay) with Michael C. Hall, Chris Messina, and Lucy Liu, and the documentary "Putin's Kiss" (Kino Lorber), a snapshot of the volatile political culture in contemporary Russia.
Browse the complete New Release Rack here

TV on Disc:
"Justified: The Complete Third Season" (Sony) continues one of the best cable dramas on TV with a new season that pits Timothy Olyphant's slaw-talking, quick-shooting, self-destructive U.S. Marshall against a carpetbagger of a Chicago crime lieutenant (Neal McDonough, all smooth and smarmy sadism) trying to set up his own drug empire in Kentucky. This series features some of the best and most vivid characters on TV, notably Walton Goggins as philosophical backwoods crime boss Boyd Crowder. 13 episodes on Blu-ray and DVD. Videodrone's review is here.
"Being Human: The Complete Second Season" (eOne), the American incarnation of the original British series about a vampire (Sam Witwer), a werewolf (Sam Huntington), and a ghost (Meaghan Rath) who become roommates in a Boston house, holds its own just fine with its inspiration as it stakes out its own identity this season, with its tale of the vampire mafia, possessed souls, and ghost madness. 13 episodes on Blu-ray and DVD. Reviewed on Videodrone here.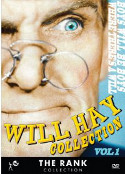 "Trial & Retribution: Set 6" (Acorn) features the final four feature-length episodes of the British crime series created by Lynda La Plante.
Flip through the TV on Disc Channel Guide here

Cool and Classic:
Two uniquely British comedians are celebrated in a pair of double features.
"Will Hay Double Feature Vol. 1: Boys With Be Boys / Where There's a Will" (VCI) features two comedies from the thirties featuring the music hall star turned screen comedian playing variations on his stage characters. "Norman Wisdom Double Feature Vol. 1: Trouble in Store / One Good Turn" (VCI) presents the two breakthrough hits for the West End funnyman turned screen comedy superstar. Both on single discs DVD editions.
All of the Cool and Classic here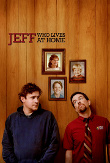 New on Netflix Instant:
"Jeff, Who Lives at Home" (2011), a quirky comedy starring Jason Segal, Ed Helms, and Susan Sarandon, is one of two films from filmmaking brothers Jay and Mark Duplass no available. The other is the low-budget indie comedy "The Do-Deca-Pentathlon" (2012).
Daniel Auteuil directs and stars in "The Well-Digger's Daughter" (2011), an adaptation of Marcel Pagnol's novel about a widowed father raising six girls in rural France in the years between the World Wars. It arrives days after its disc debut. Other new releases include "Red Lights" (2012) with Cillian Murphy, Sigourney Weaver, and Robert De Niro, and Todd Solondz's "Dark Horse" (2011) with Jordan Gelber and Selma Blair.
The documentary "How to Survive a Plague" (2012), which placed on the MSN Top Ten Films of 2012 compilation, arrives on Netflix Instant in advance of disc.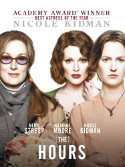 Two past Oscar winners: "The Hours" (2002), with Best Actress Nicole Kidman and co-starring Julianne Moore and Meryl Streep, and "The Usual Suspects" (1995), directed by Bryan Singer from an Oscar winning script by Christopher McQuarry.
Plus: Mike Leigh's "Topsy-Turvy" (1999), the Coen Bros.'s "Miller's Crossing" (1990), and Brian DePalma's "The Untouchables" (1987).
Instant TV offerings include "Wallander: Series 1-3" with Kenneth Branagh, Steven Moffat's Britcom "Coupling: Seasons 1-4," and "The West Wing: Seasons 1-7"
Browse more Instant offerings here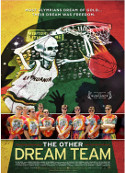 New On Demand:
"Looper," the inventive time-travel thriller with Joseph Gordon-Levitt and Bruce Willis, is available same day as DVD.
"The Other Dream Team," the documentary about the fledgling basketball team from the newly independent nation of Lithuanian at the 1992 Olympics, debuts On Demand before disc. Reviews here.
Best of 2012:
Click here for Videodrone's Best Disc Debuts,  Best Blu-ray Releases, Best TV on Disc, and Best MOD Releases and Notable Achievements for 2012